ATD Taft 1/29/05
Photos Page
---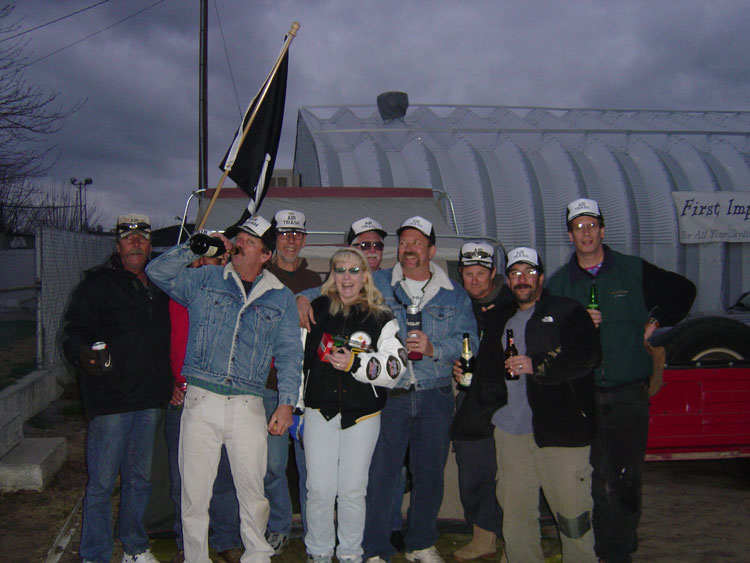 Location Taft Aiprort in Taft, CA. January 05 ATD.
What a fun packed weekend it was BG ! Weather Gods were not all that kind to us on Saturday. It was snowing as we [ Mike Gerwig, Tom Brown & myself] made our way through the Grapevine. The hills were snow white, but fortunately, the snow that hit the roadway melted immediately. It was overcast at the DZ, but we did manage one leap. The weather on Sunday was absolutely beautiful & so we made two jumps. I managed to land in the peas on all three jumps, but two of them were not actually standups, kind of fell forward on the first two jumps & stood up the third one. In attendance were : Mike Owens, Tim Farnam, "Quarter John", Freddie Basile, [ Freddie's progress overcoming his many serious injuries is astounding & only goes to prove how tough he is] Mike Gerwig, Tom Brown, & "Little Don Vredenburg". Also in attendance, were Norm & Patty Van Pelt, [congratulations to them] along with all of the many good vibes regulars at Taft DZ. Just think ...... Phil Christman & Norm are now relatives!
"Little Don" had a wonderful time & of course was a big hit with the local girls. Mike Owens even laid the little shit out on the lawn underneath the Air Trash windblade & gave the little fellow's rig a fresh new pack job. What a neat parachute Mike built for him. All the "oldtimers" in the sport stood back & smiled with admiration, as they watched Mike display his skills at packing up a "round", the proper way ! "Little Don" did not jump on this trip, but was very active during the Silly Tit / Air Trash meeting. He went beer for beer with his Uncle Bully & was also heard reciting poetry, limericks, songs, etc. which were filled with provocative verses & lyrics. We didn't indoctrinate any new Silly Tits this time, but we proudly have two new Air Trashers : Corky & Tom Brown.
Photos were taken over the two day fest by Mike Gerwig, Fred Basile & Corky. Hopefully when all is said & done, Larry will get some of these photos & be able to post them on the website. One photo which is sure to be a big hit is : A photo taken by Mike Gerwig of Dave Crouch. In the photo, Dave is looking out a window, which has bars on it. All those watching, agreed that Dave looks very natural behind bars ...... LOL
This is John Bull reporting live ..... for Air Trash News ....
Click on any of the thumbnail pictures below to see a larger image of that picture. Use your BACK BUTTON to return to this page.
Home