As most of you are probably already aware, our good friend & longtime jumper Mike Owens a.k.a. "Sparky", has decided to hang up his chute & retire from skydiving after a thirty year run in the sport. During the course of those thirty years, Mike has excelled in just about every form & expression of skydiving that our sport has to offer.
Along the way he has established countless friendships across the U.S. & in several foreign countries as well, and has been a huge influence to many. He is a long time member of the elite group of skydivers known as Air Trash. Mike is also a member of The Silly Tit Club. An off-shoot club started by the late Perry Armstrong.
I didn't want Mike to slip away without first getting an opportunity to find out more about "what makes him tick". He came down for a visit & we spent the day hanging out, so that I could ask him all sorts of personal questions which are none of my business. I would like to share with you some personal history I was able to glean from .... "the man, the myth, the legend" ....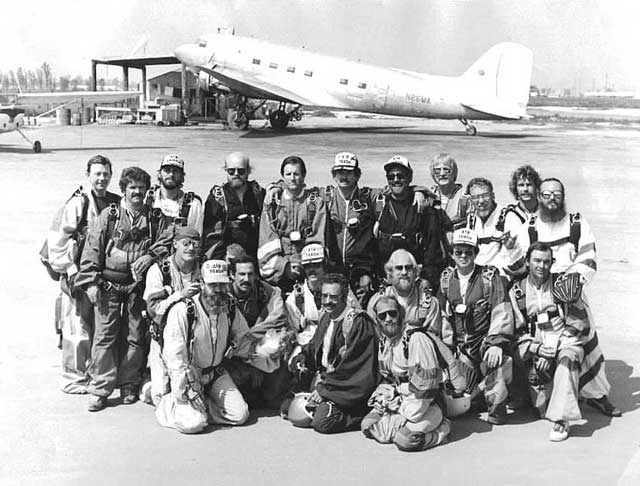 Early History
Mike was born 60 years ago in Ogden, Utah, although he grew up & went to school in Southern California.
Military Background
Mike spent four years in the U.S. Navy from 1964 - 1968. He is a Vietnam veteran & while serving his overseas tour of duty in 1967 -1968, he was a hospital corpsman for the USMC, achieving the rank of 2nd Class Petty Officer. Mike and his buddies shown in the photo below at the Rock Pile near the DMZ on Route 9 in northern I Corps. Between Dong Ha and Khe Sanh. Left to right are: "Doc Andy" Dr. Bruce B. Baker, Lt. USNR (center) and Mike on the right.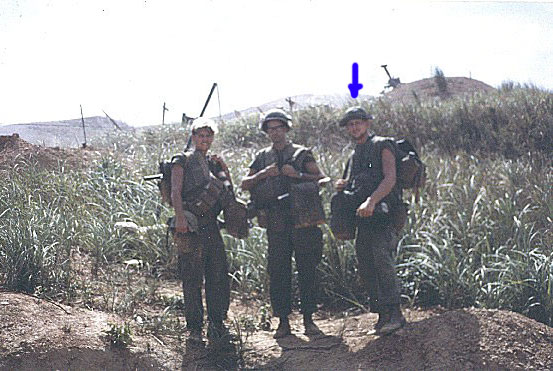 Mike was a firefighter with the San Bernardino Fire Dept. for 29 years & retired at the rank of Capitan.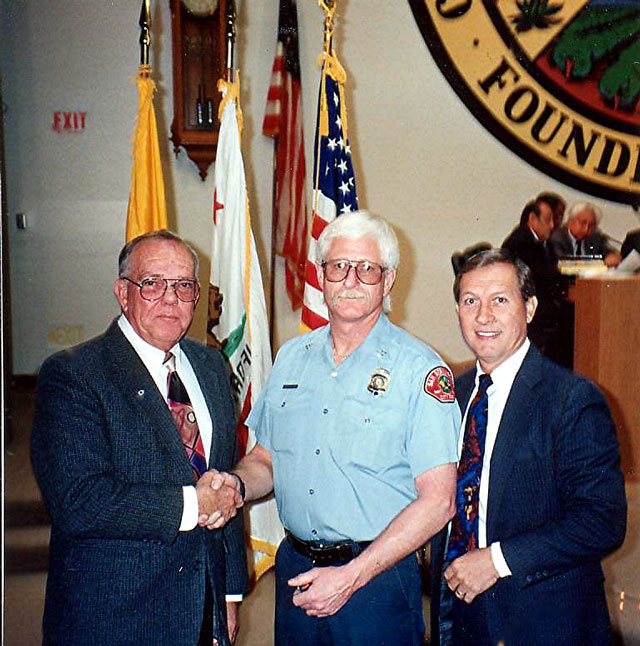 While working with Joe Crotwell at A.E.R.O. - Aero Equipment Research Organization, a reliable source said : "Numerous fires would just sort of happen to ignite within close proximity to Mike, whenever he was around"..... As a result, the nickname "Sparky" was given to him by Joe.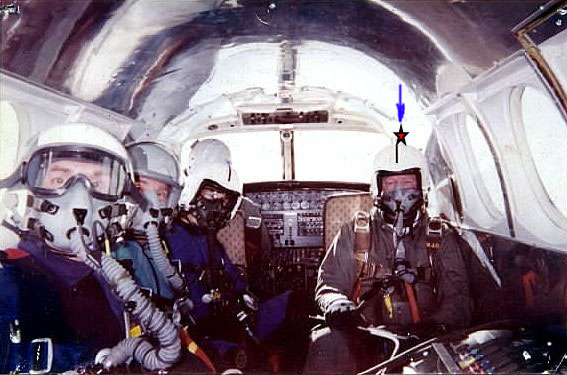 Skydiving History
Mike made his first jump at Perris Valley Airport on July 12th, 1976 & has made a total of 2,702 skydives, of which more than 250 were demo jumps.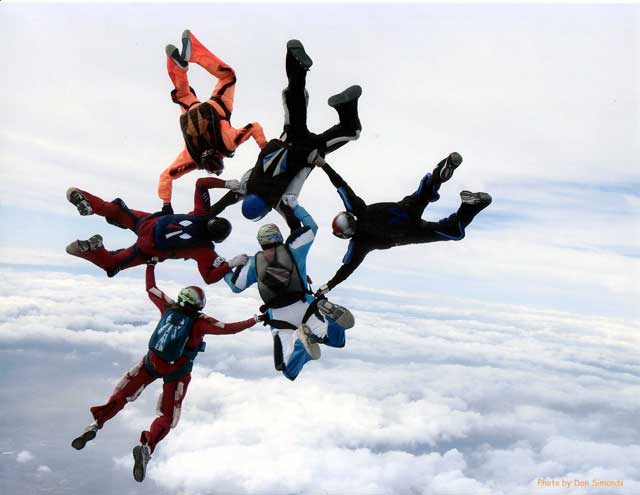 Licenses, Awards, Ratings & Accomplishments
All four USPA licenses were earned during Mike's first two years in the sport.
A - # 5490
B - # 10625
C - # 72461
D - # 5476
Senior Rigger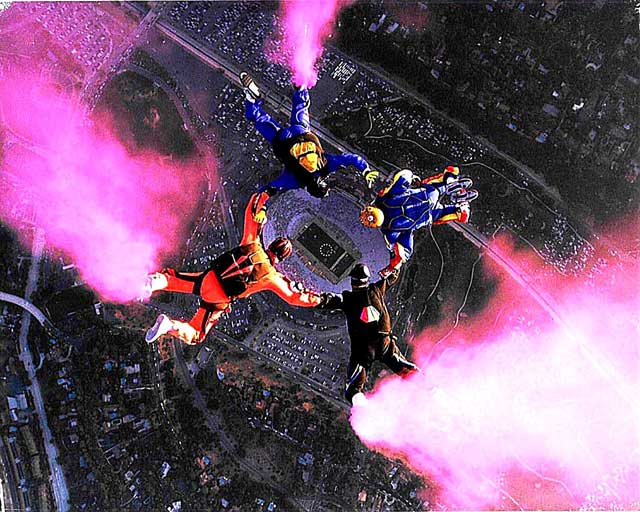 Awards
Gold Wings - # 2454
Diamond Wings - # 2114
12 Hour Freefall Badge # 645
24 Hour Freefall Badge # 1278
36 Hour Freefall Badge # 1087

SCR # 7494
SCS # 4073
NSCR # 1531
SCSA # 329
NSCSA # 105

4 Stack # 202
CCR # 315
CCS # 99
Pro Rating Since 1985
Silly Tit # 25
Testing & Demonstration Jumps
Mike's favorite demos were Knott's Berry Farm, The Rose Bowl, Belize, Sunset Boulevard and Kitty Hawk. Mike commented that this was his favorite demo jump because there were over 100 canopies in the air at the same time & all were landing near the tower which marks the exact location where the Wright Brothers "first powered flight" left the ground.

His most memorable RW Skydive made at a drop zone was being in the first 30 Way over Perris Valley Airport around 1980 or 1981. Mike's Big Way attempts include 91 100 ways or better with the largest attempt being 150 and the largest completed was 110. Mike also participated in ALL of the Pops Ways from 28 through the 110 way. In the photo below John Bull pins Mike at Old Farts Reunion on his 2000th jump.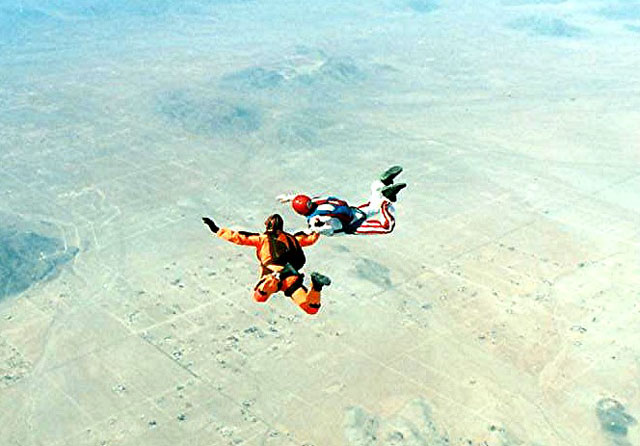 One of the biggest, if not THE biggest challenge of Mike's life came in 1999, when he went to see the doctor about gallbladder pain. It was discovered at that time, he had cancer in one of his kidneys. His gallbladder & kidney were subsequently removed & he remains cancer free. As a result of Mike beating his cancer, he was invited to Spaceland in Texas, to participate in the 18 Way Record Attempt on May 1st, 2003. It completed & was held for 18 seconds.
Attitude On Drinking: "Exercise the one kidney you have left" .....
Mike's final leap was a Demo Jump into California Speedway with Jim Wallace on Feb. 26th, 2006. The photo below shows his last Demo into Cable Airport.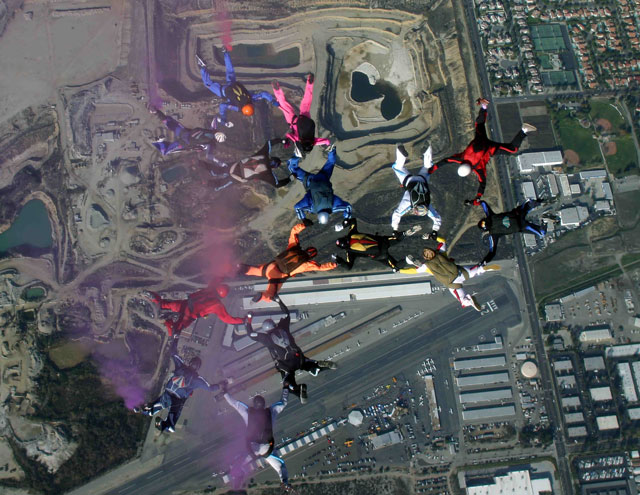 Other Hobbies & Interests
Motorcycles - Back in his "firey youth", Mike used to race desert bikes. Current Bike : 2001 Dyna Wide Glide Harley Davidson.
Decision To Retire From Skydiving
When I asked Mike this question, he replied, .... "I always felt, when the fun was gone, I'd be gone" ..... Although Mike did leave a "crack in the door" by saying : "You never know, in a few years I could start up again" ..... Right now his new plans are to make a cross country bike trip, ending up in Florida [Lake Mary area].
Final Thought
Mike's final thought to those who will be reading this : "You make six jumps a day, that's six minutes out of your day. The rest of the time you spend hanging out with your friends" .....
John Bull's Final Comment
Mike, in closing I'd like to take the opportunity to say, the skydiving community will miss you & it won't be the same without being able to look up & see that familiar "orange" color in the sky. You have given everything to this sport & asked nothing in return. All through your illustrious skydiving career, you've participated on many big & impressive skydives, but you always seemed just as happy to be on a "newbie's" SCR jump. I'll never forget that day, so many years ago, when you were on mine.... Speaking for us all, we wish you all the best in whatever you decide to try next. We hope you'll come terrorize the DZ from time to time. Remember .... rigs are optional, beer is mandatory !
Blue Skies, From your friends in the skydiving community.
This is John Bull reporting ..... for Air Trash News .......
P.S. Folks, don't forget to mark your calendar for Saturday, April 29th. That's the day we have earmarked for Mike Owens Appreciation Day & "Celebrity Roast" at Perris Valley Airport. Bring your favorite photos & of course, beer. Try to wear something ORANGE! Manifest at 10:00 A.M. Mike will be arriving in the early afternoon on this day.
More Photos