As most of you are aware, our good buddy & grizzled veteran skydiver, Air Trasher & Silly Tit Don Vredenburg, will soon be moving to his new home in Cedar City, Utah. Don is without doubt, one of the most colorful and entertaining personalities in our skydiving community. Some personal history on him is in order, so I placed a phone call to him and asked all sorts of nosey questions. Here are some facts, figures & trivia I was able to pry out of our cantankerous but lovable Don.
Early History
Don was born 68 years ago in Waukesha, Wisconsin. He and Joanne fell in love & were married at age eighteen & have been married for just a little over 50 years. During this time, they raised six children [ 6 & 1/2, counting "Little Don"]. Their children have given them nine grandchildren.
For the majority of Don's working life, he was involved in the manufacturing of equipment for food & dairy products. [ can you say "Wisconsin cheese" .....] Later on, he went into the real estate photography business.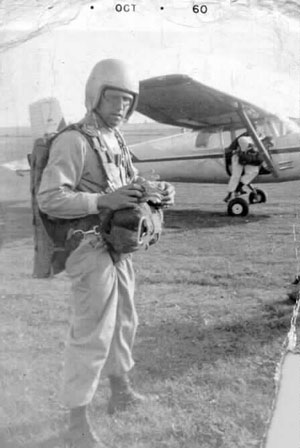 Skydiving History


Don made his first parachute jump in Waukesha, Wisconsin in 1959. He has amassed around 2,000 skydives of which aprox. half are camera jumps, video, or both.
Don & Joanne moved to California in the early 1960's and Don began skydiving at Elsinore in 1963. He jumped there all through the 60's, 70's, 80's & 90's & at Perris Valley as well, until a car accident made it unable for him to continue skydiving. He has remained active in the sport however, by attending all Air Trash / Silly Tit Meetings, parking lot events, etc. etc.
An unfortunate motorcycle accident in 1973, resulted in the loss of one leg. After a two year recovery period & because a couple of his sons started jumping, Don was back to skydiving again & made another 1,000 jumps or so. The accident enabled him to qualify for the "Pieces Of Eight" [P.O.E.] Skydiving Team, where he was in the original 8, 10, & 12 way P.O.E. formations. Don entered 6th in that original 8-way formation.
Here is a list of some [but not all] of Don's skydiving licenses, awards & acomplishments :
Parachute Licenses : B-429 [all three earned between 1962 & 1963] C-423 D-423
SCR # 172
P.O.E. # 6
Silly Tit # 114
Don participated in many early POPS record dives, but is especially proud of being on the very first POPS record, a 13 way. He also participated in a couple of early S.O.S. records as well.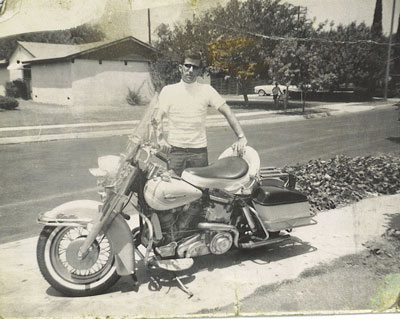 Other Hobbies & Interests
Swilling Cold Beer
Harley Davidson Motorcycles
Restoring Old Cars
Most Recent Restoration : Perry Armstrong's 1955 lime green Ford Panel Truck
Current Restoration : Converting a 1930 Ford Coupe into a "Street Rod"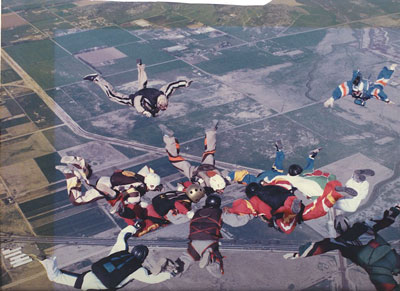 Football
Naturally, being born & raised in Wisconsin, Don is in all probability, the world's most dedicated Green Bay Packers fan....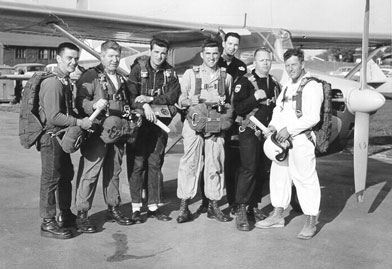 Priorities For New Custom Built Home
Semi - Important : The house itself....
More Important Garage No. 1 - A three car oversized ...
MOST IMPORTANT : Garage No. 2 [& Shop] - 1,000 square feet. This is where Don will spend most of his time, happily "hot rodding" & restoring his old cars. I'd be willing to wager that in Don's garage / shop, there will be a "beer fridge" in working order, and also a radio, so he can listen to "oldies but goodies" car songs, while working away on his re-builds ....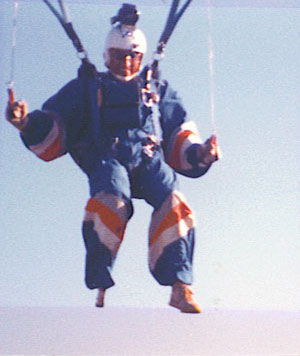 Some Final Comments
As our phone conversation came to a close, I asked Don what would be his final thoughts to those who will be reading this. After first scolding me for wanting to do this feature on him, he wanted everyone to know that he cherishes all the friendships he has made during his many years of skydiving.
Speaking for all of us, I would like to say to Don, we wish you & Joanne all the best. Enjoy your new home. The pleasure of your friendship & company is all ours. You will be sorely missed at all Air Trash / Silly Tit gatherings, but certainly not forgotten !!! Please come visit us when you can.
Blue Skies, From All Air Trash & Silly Tits .....
P.S. Don wants everybody to know a map to his new dream home & nearby airport will be forthcoming .....