Rumble Seat Weekend
January 10, 2004
---
Photos & Page By: Larry Walsh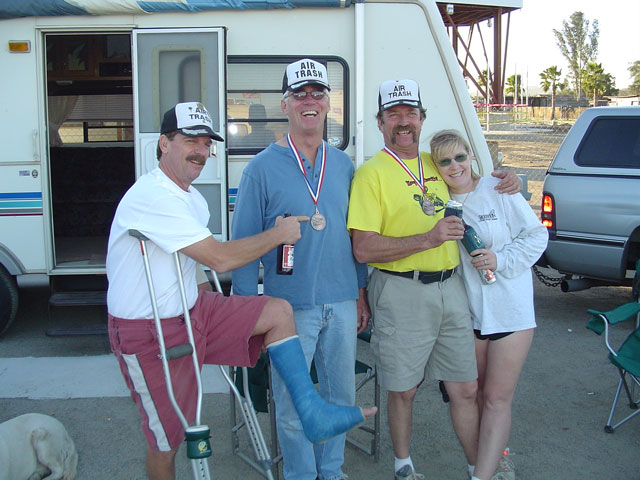 Location - Perris Valley Skydiving
Date - January 10, 2004
Air Trash got together on January 10th for the Annual Rumble Seat Meet at Perris. The weather was extremely good for a winter day so shorts and T shirts were in order. It was also Bullies first outing to the DZ since his little accident just before Christmas.
The day went well with at least one member of Air Trash on each of the winning teams. We also had a very productive Silly Tit meeting with a record number of inducties reaching 5 new members. Corky, Tom Brown, Roger Worthington, Ed Lockout and Jack "The Canman" filled numbers 188 through 192. Once the Silly Tit Meeting was over and all the beer in the parking lot was gone we all went to the Bomb Shelter to sing songs and mingle with the rest of the jumpers. All had a great time but couldn't remember much the next morning. Below is a photo essay of the days and evening events to help jog your memories.
Click on any of the thumbnail pictures below to see a larger image of that picture. Use your BACK BUTTON to return to this page.
Parking Lot Antics
More Antics
Posers
View From The Tunnel
Pattie's Tatt
D 22
Bob Displays His Injury
Silly Tit Meeting Begins
More Sillyness
Tom Brown Makes Silly Tit
Corky Makes It Too
Corky Drinks
Roger Worthington Joins The Ranks
John Velardo 1st Tunnel Trash
Too Drunk To Eat
Dueling SCRs
?????
Give Us This Day
Our Daily Brew
Bully & Diane
Morning After
Tunnel Crash
Tunnel Team 2 Way
John Velardo In The Tunnel
HOME