Message Posted 10-14-17
from: Donna Wardean
I guess these things get into your blood and never go away.
No it isn't mine. She just let me sit on it for a photo at a car show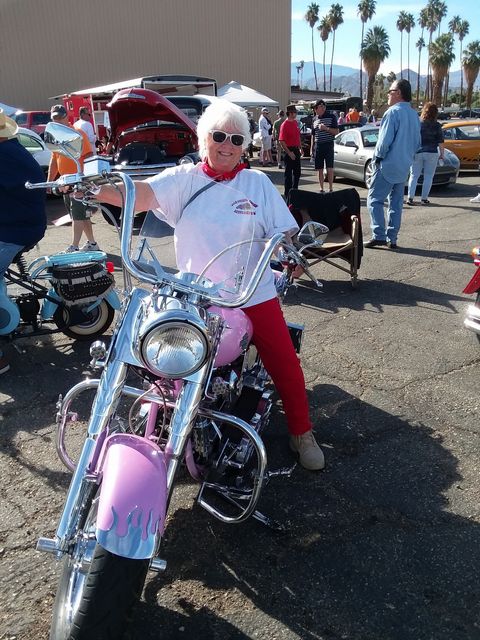 Over Coachella Valley. Yesterday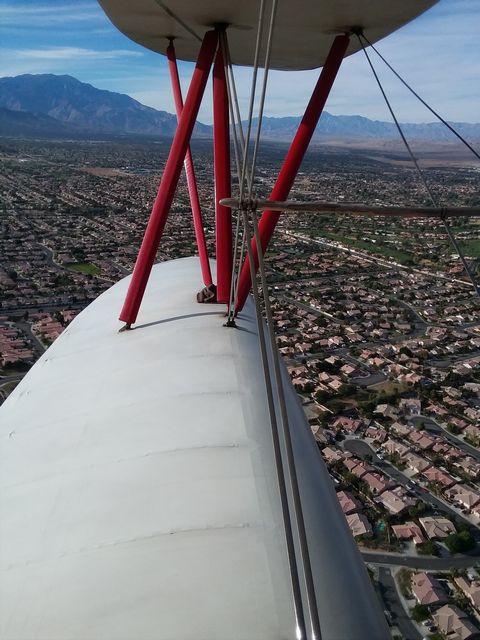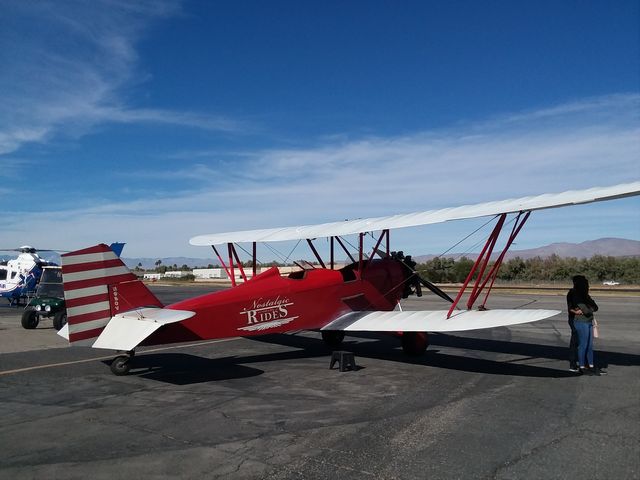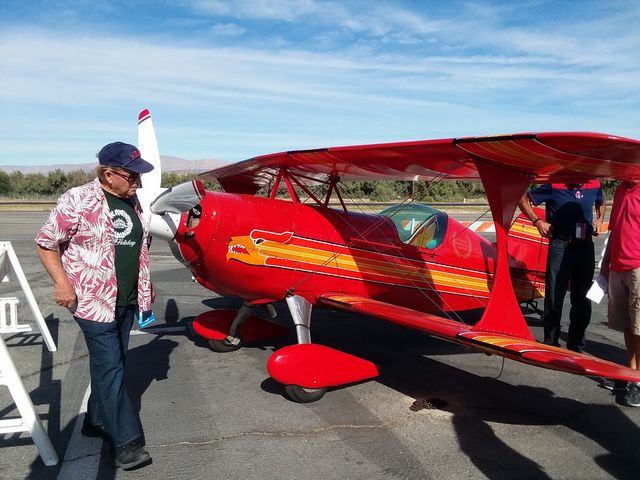 Does it say INVERTED???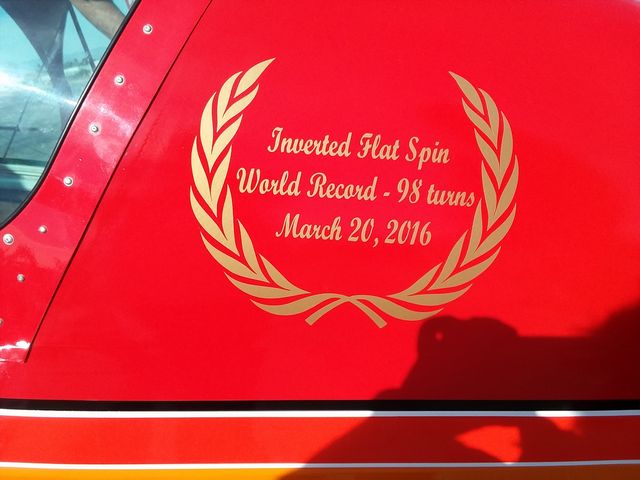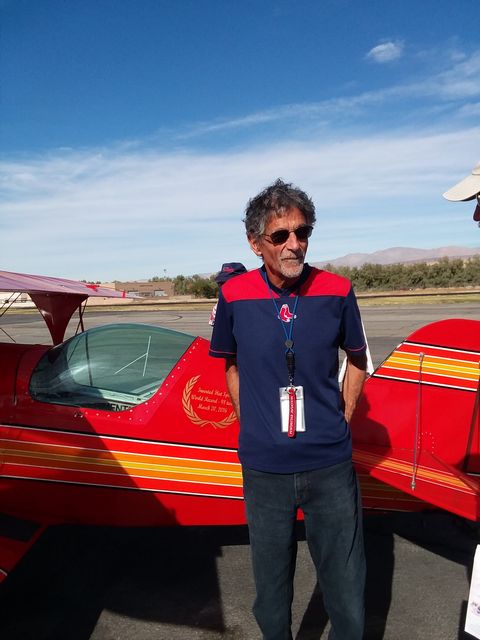 Look how LITTLE this thing is.
I saw him take off when he left. He ran a short distance down the runway.... pulled back the stick.. shot straight up until out of sight!
---
Message Posted 10-15-17
from: Fred B.
Spike and Bob Sinclair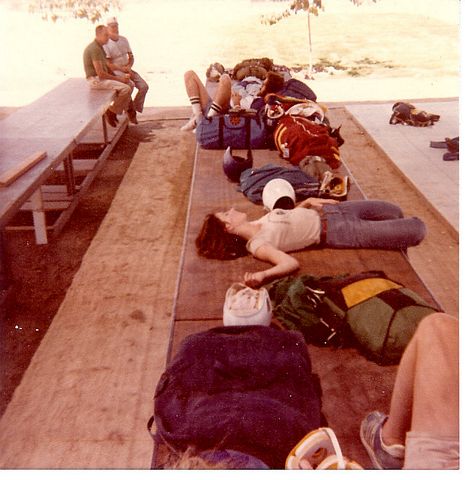 Bring back memories?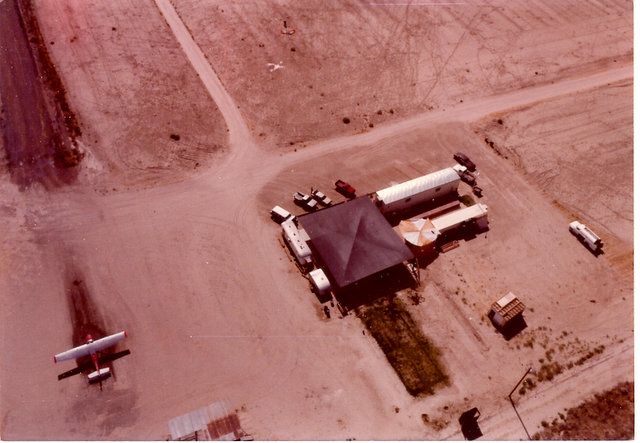 Skydivers Go Down Faster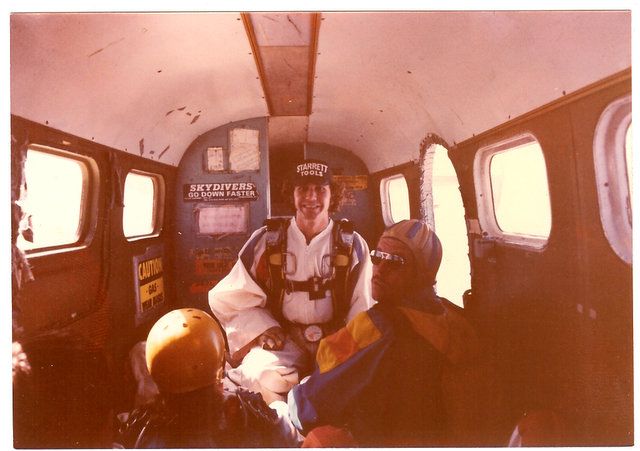 Hard to believe it's been 35 years. 10/17/1982 R.I.P.
---
Message Posted 10-13-17
from: Randy Green
Lyle Cameron's daughter Amber with Lyle's grandson, my godson rock'n his Air-Trash lid,, and yes Clyde sang the Air-Trash song to me twice!-"him,him". Amber is already Air-Trash so like mommie I am nominating Clyde for induction into the brotherhood!-Thanx Fred--Stinky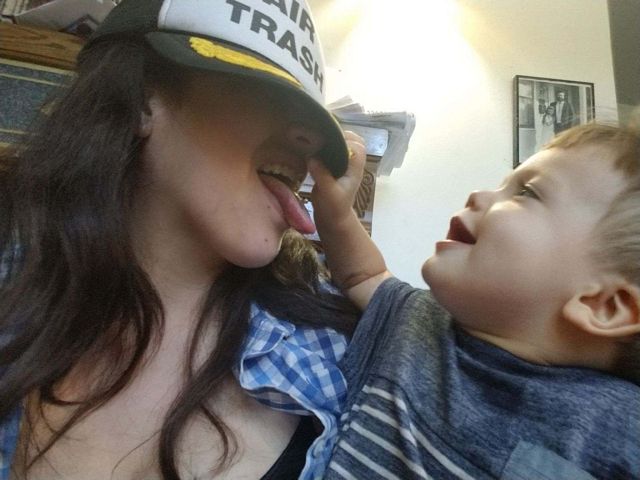 perfect fit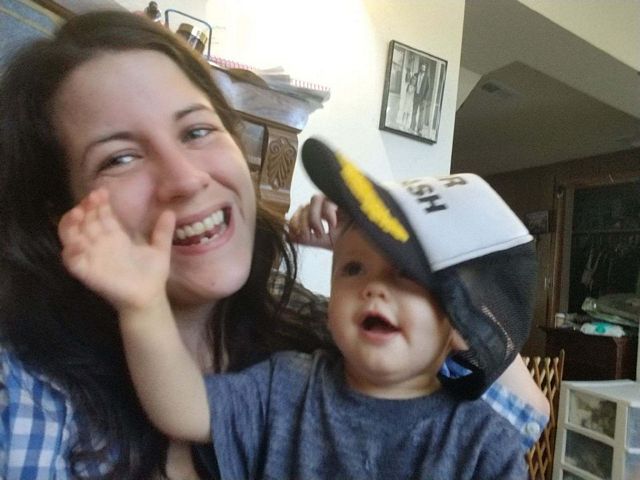 ---
Message Posted 9-5-17
from: Bob Butt
Air Trash Relief - loading up for Operation Airdrop. First mission flight to Conroe, TX. Friday. Remembering the support of all youse guys during our own little episode. Thanks again.
Bob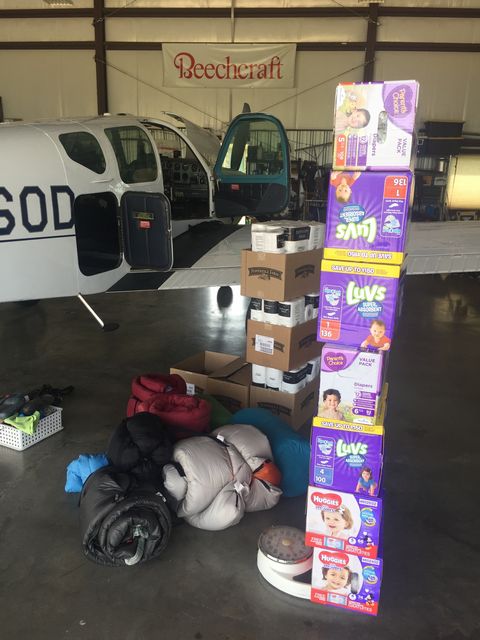 Almost ready. A couple guys I know got this going and we had about twenty aircraft at any one time yesterday going to the smaller airports.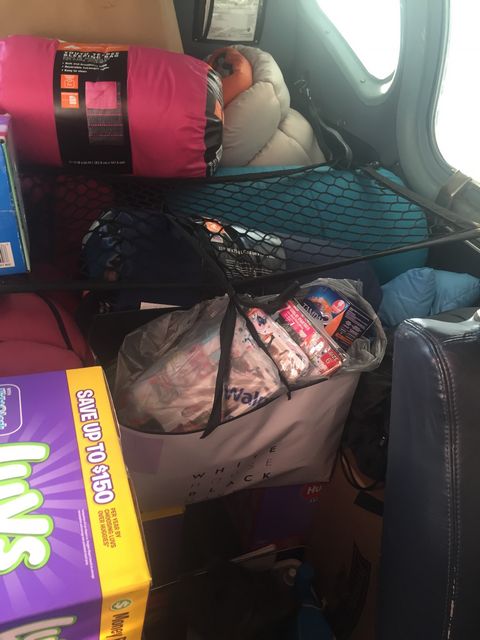 Thanks Bob. Ya see, we're not just a bunch of dirty bastards. . . . .
---
Message Posted 9-3-17
from: Bill Deli
Hi Fred...and all,
By now you are getting or have gotten your Sept. 2017 "Parachutist" in the mail!! 'Figured with as many "inputs' they get I'd stand a "Snoball's chance in Hell" for getting my photo published!! My sis took me to New Orleans for my B'day and we walked around the "French Quarter" and played "Tourist!!!' Got a photo up on the Mississippi river bank levee looking toward "Jackson Square!!" .....They "Published it!!!" there on page 10 in the "Parachutists around the world!!" That's me in my "Gold Coast Skydivers" Tie-dye T-shirt and my new "River Boat Gambler Straw Panama Hat!!" that my sis got me for my B'Day!! Take a good look!! Andy still stands in spite of rumblings of of his demise by antifa and other "Mercenaries."
For the record, Andy was visiting New Orleans in 1814 and unbeknownst to him and everyone, the "Brits" were pulling into Lake Borgne east of New Orleans and were going to advance, take New Orleans and secure control of the mouth of the Mississippi River thus strangling US Commerce!! Word got down town and Andy mustered his troops, all able-bodied men of New Orleans and the help of Jean Lafitte "The Pirate!!" (He plundered only Brit flagged ships and left the US alone thus he got to hang out here) and all his men and needless to say when the Brits got to Chalmette they "Got Wacked!!" Thus Andy stands Tall in "Jackson Square" in front of the St. Louis Cathedral!! Had Andy and the troops failed.... we'd be paying our taxes to King George and his descendants!!!!! Yer' "Dixie Trash" History lesson for the day!!
Blue skies,
skybill-out
PS: Add on photo, me and my little sister Rose by "Andy!!!"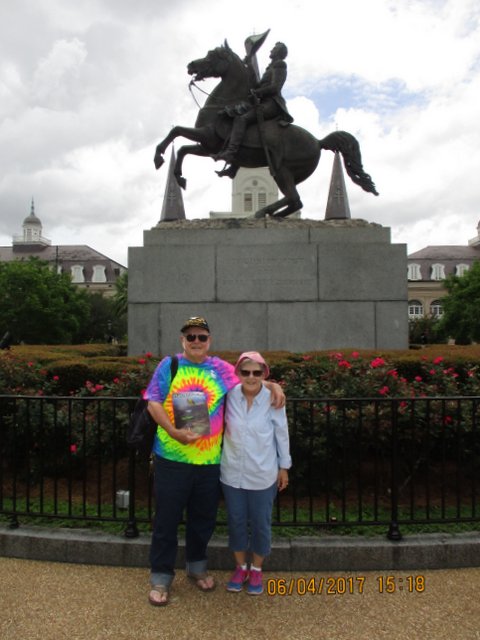 Happy "B-Day", 'ya Silly Tit
---
Message Posted 8-29-17
from: Frank Venegas
Hoping someone can get me the name and number of the photographer(s) who filmed the 2 jumps we made with Steve Fieldings group for Al Frisby's 24 hour Badge, It's been quite a few years, but I would like to get a copy of those jumps.

I am at,
Email: fvscr67@yahoo.com
---
Message Posted 8-24-17
from: John Bull
Hi Freddy,
I love the new Photo Of The Month Larry sent in.
Close to 5000 jump milestone. 4992 jumps logged. Will make 2 or 3 leaps today & finish up the rest on on Saturday.
# 5000 will take place in the afternoon/evening (possibly even the sunset load)... just depends on how the day plays out.
Arrgh arrgh arrgh
---
Message Posted 7-30-17
from: John Patterson
Hello,
My Dad was in Air Trash in the 70's with Richard and Dirty Al (Dirty Ed, Al Frisby). I remember a bunch of the guys and I have a couple of Pics that should be on the page. By the way he was John Patterson and married Bob Butt's sister Marilee in '87 or so. He passed in 2008.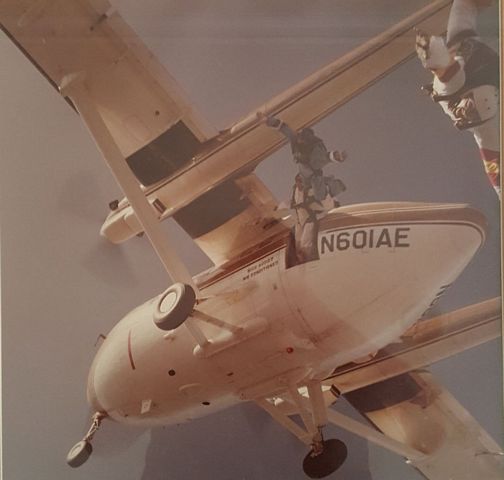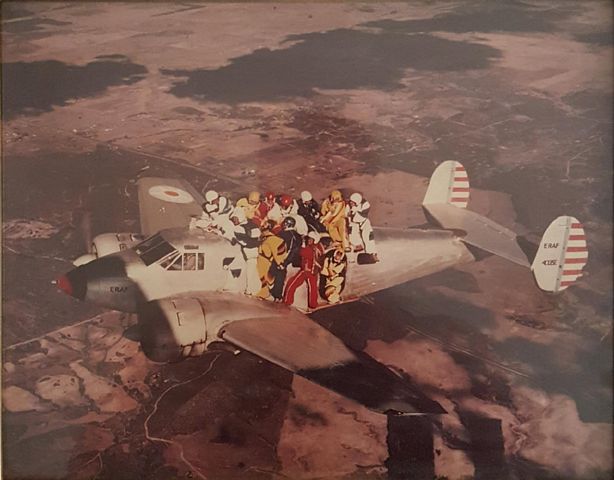 By the way he has the blue Cooper Hockey helmet in both pics.
Here is another one of some "Trash". I believe the "Godflicker" Mike Jenkins took this photo.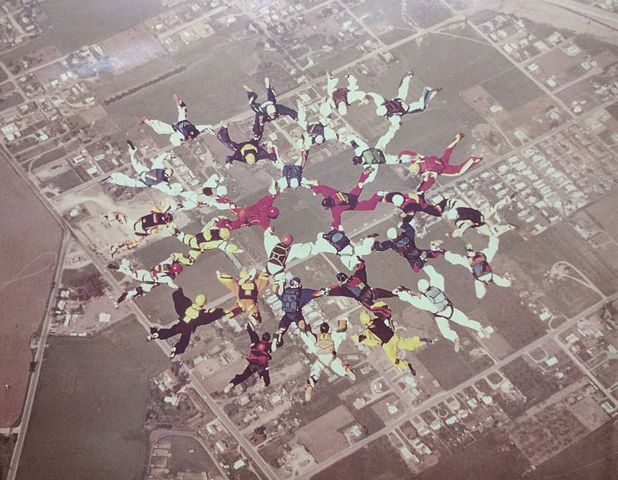 Best Regards,


---
Message Posted 8-24-17
Another good picture of John Patterson early on in about '78.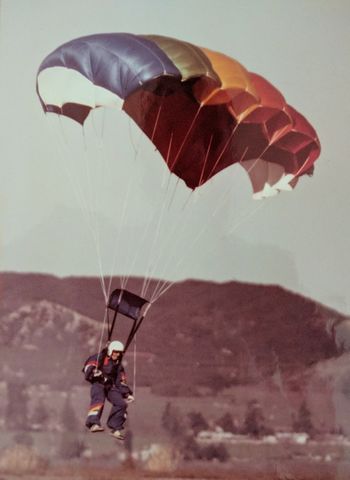 Best Regards,
---
Message Posted 6-5-17
from: Carol Jones
----- Original Message -----
From: Frederick Bremer
To: Carol Jones
Cc: james mcnair
Sent: Thursday, June 01, 2017 8:14 AM
Subject: 182

Carol,
We are having problems locating a 182 for Adirondack Skydiving Adventures, located in Fort Ann, New York. Our current aircraft is out of commission. The timing is critical with summer already upon us. We are looking to buy, but a lease will do.
Can you help me to get the word out to all the POPS and SOS members?

Thank you,
Frederick G, Bremer AIA, NCARB

Bremer Forensic Consultants
1447 Dean Street
Niskayuna, NY 12309
Tel: 518.578.1180
Email: fgbremer@nycap.rr.com
---
Message Posted 6-5-17
from: John Bull
Hi Freddy,
Normally when an Air Trash guy gets profiled, it's done by local law enforcement agencies... Ha!
Bully
---
from: Bob Butt
Yea Bully!
---
from: Larry Walsh
Congratulations Bully. Yet another way to get in a cheap plug for Air Trash!
Larry/ST135


---
---
Message Posted 5-15-17
from: Larry Walsh
Hey Guys,
In two days Animal and his wife will be here in Central Nevada visiting for a few days while on their cross country trip. Of course I will be doing some photo taking and video during their stay. So keep an eye on my You Tube channel to see what the old buzzard is up to during his visit.
Everything is wonderful here at my new place in the Nevada desert. I love being here. The people are fantastic and my new property is everything I had ever hoped for. To see what I'm up to all you need to do is go to my you tube channel. Always something going on there. http://www.youtube.com/mobiltec.
Hope all is well with you guys. Stay safe and blue skies.
Larry
ST-135


---
Message Posted 2-9-17
from: John Deluca
On the original Air Trash photo (history of air trash), people actually in the photo:
Bob (space) Atkins, John Deluca, Joe Shepherd, Jumpin Jack Flash, Richard Hayden, Ed Ryan, Larry Fatino, unsure of the rest at this time.
Thanks, John Deluca D10097, Silly Tit #70, Airtrash #
---
Message Posted 2-2-17
from: Fred B.



Below is a 1998 Harley Davidson FLHTCI, that belonged to long time Air Trash member Jim Dann, SCR 6. As you know, Jim passed away in August of last year and his wife Donna now has the sad task of selling this beautiful bike.
I picked up the bike and took it to my shop where I put in a new battery, fuel lines, fuel pump, fuel filter, and had the injectors professionally cleaned and tested. The bike had been garaged for the past two years and has just over 32200 miles, most of which are highway miles.
This is an exceptional touring motorcycle. It's never been abused and has been very well maintained.
It has everything you could ask for on a dresser for comfort, list too long to post.

* * UPDATED 12-14 * *

SOLD - SOLD - SOLD



Jim's Harley sold at auction. I'm sure it went to a good home.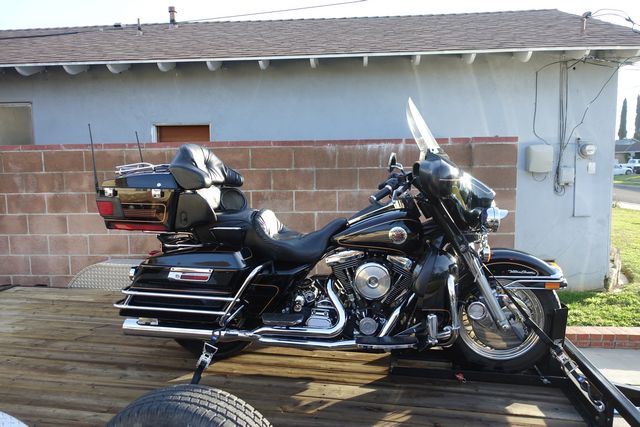 ---
Message Posted 11-20-16
from: The Webmaster
Donna launches a new website called GREATGEARX.org, with a focus on Novice and new "A" license skydivers.
Donna writes:
"I am Donna Wardean. I started jumping in 1966 at Arvin, California...(the cradle of Relative Work).
In the early days, in the mid 60's, my peers were generous in sharing what they knew aboout RW. How to get from point A to point B (today this genre is formation flying of various types).
Well, they were big,,, I was small. Their advice didn't always translate or work for me but it gave me a place to start. I loved the sport and challenge... and I had a great career! So as others followed me, I paid it forward. My personal passion has ALWAYS been to help people who were young in our sport to Grow, Mature and Flourish. That is something that came naturally to me because my peers, those early RW men... the Arvin Good Guys shared what they knew with me."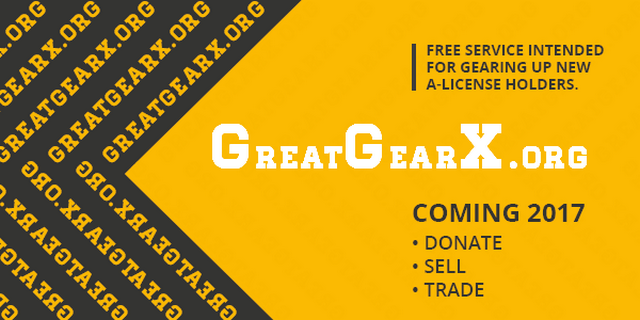 This site isn't just for the Novice Skydiver, it's for anyone that wants to buy sell or trade skydiving related gear.
This and other great links can be found on the Air Trash "LINKS" page.


---
Message Posted 6-2-15
from: Tim Long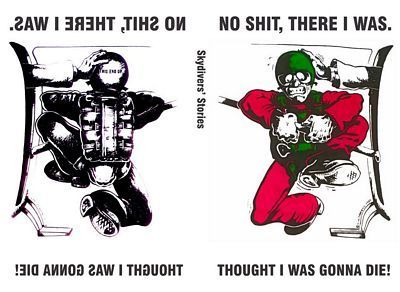 These memorable images, by artist Rob Thundercloud and donated by Tom Sanders are the book cover.

Well, Doug and I have gotten so many requests to do another NSTIWTIWGD book of stories
that we are going to give it a try.

So if you got any you would like to submit to us then email me the story at tim_j_long@MSN.com

Thanks,,
Tim
---
Click HERE to leave a message. Keep it short and Type it exactly as you want it to be seen.