more from: Bill Deli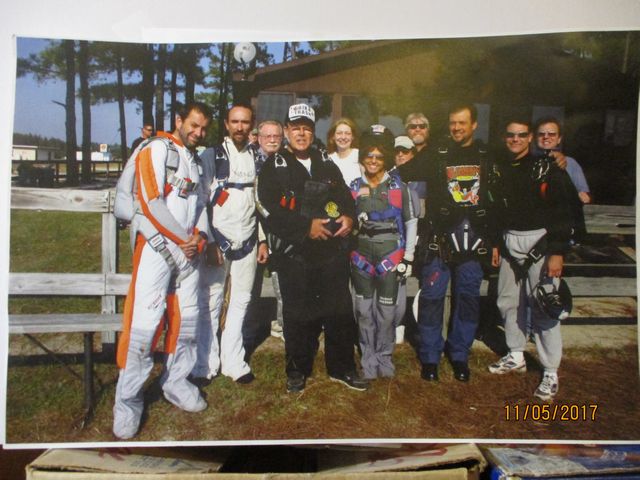 Please note the photo!!!!
This one I would like to post to the "PHOTOS!!" I told the story of "Harold Faulk's" Ash dive .... more later... this photo was "The Group shot" L-R Bob Lewis, then Shaun O'Neil, both who I worked with at "Sunpath Parachutes in Raeford!!," next is the guy with the white moustache... That's Paul "BIG HARRY" Thompson.. owner of "BIG HARRY'S TAVERN, 3030 Ft. Bragg rd., Fayetteville, NC Where we all "hung out!!", next is "Yours Truly in the Black jump suit , "AIR TRASH" hat and holding in my arms the pouch with the "Golden Knights" crest .. holding Harold's ashes!!!!!!" the Lady on my left shoulder is "Annie!!!" Paul's Wife, Lady in the Grey jump suit is Yvette Walters.... "Great Lady Flier, does Great Camera, is wife of Keith Walters, now former XO of the "Golden Knights" and currently Head Honcho of the USSOCOM "PARACOMMANDOS" Parachute Demo Team!!!! (I'll send you a vid of one of their ops next!!) video at the end of message.
BTW, I needed a "CUTE GIRL" to pull open the sack !!! I couldn't have an "UGLY GUY" do it!!!!... Harold would haunt me to my dying day if I did!! "SO!!" Yvette got the job!!!!!!!... on her left shoulder is Joanie... Harold's GF and our good Friend!! behind her is Mike Lee.....then!!! ...Standing there with the "BIG HARRY'S" Shirt and "Johnny K's (former 82nd AIRBORNE Troop who hung out with us at Paul's place) "Spit Shined Corcoran Jump BOOTS!!!!!!!... Is "DAVE PASCHAL!!!!!!!!!!!!!!!!!" Yup!! That's him... His Tandem Master (forget his name at the moment??) and Mike Lee's Brother.... This Photo was taken on 05NOV2005 as you will note this was some time ago.... this was Dave's Tandem intro jump, they followed us .."RIGHT OUT!!" and he was there to watch us pull Harold's Ash Bag!!! BTW... turned out my timing was perfect, it was 05NOV2005 when we finally got everybody organized to get to the DZ and "It was the last Saturday with NICE WARM WEATHER" before "Old Man Winter" started throwing "Noreasters" at us!!
(Ya' gotta' be from NC to understand".....
But to put all this into context, Harold was an "Old Friend" .. now and then he would show up at RAEFORD and watch us jump, .. he would say ," I wanna' do that!!" .. but the cancer got in the way..... Harold passed in September...not long after we had a "Full, Tilt, Boogie" Memorial for Harold at "Big Harry's Tavern" ... Several Bands Played, ..lots of Good friends, good times and Harold's Ashes on the "Band Stand!!"...during the event ...'just happened.. I was telling Joanie and Pau about how in SKYDIVING we took the ashes of our departed friends and released them in freefall!! A week or two later, I stopped in at Big Harry's for a Beer after work.... Paul comes up to me on one side and Joanie on the other, .. Theysay,"Bill, remember how you told us about releasing ashes of friends in freefall??" .. I said,"Yes..?" .. They said,"We think Harold would like that!!!!" .. That's!!!!!!!!!!!how I got the job!!!!!!!!!
Dave Paschal was part of that event!! But he was an event of his own!! We Carry On!! 'Have to "PLAN" a trip to NC just to "JUMP THERE AGAIN!!" Last few trips, the weather was bad, had lots of "FAMILY" to do, you know the drill.. 'Have to do a "ME" trip!!!
I'll keep you posted.......
Blue skies,
skybill