Message Posted 4-16-18
from: Bill Davis
The reaper swings again...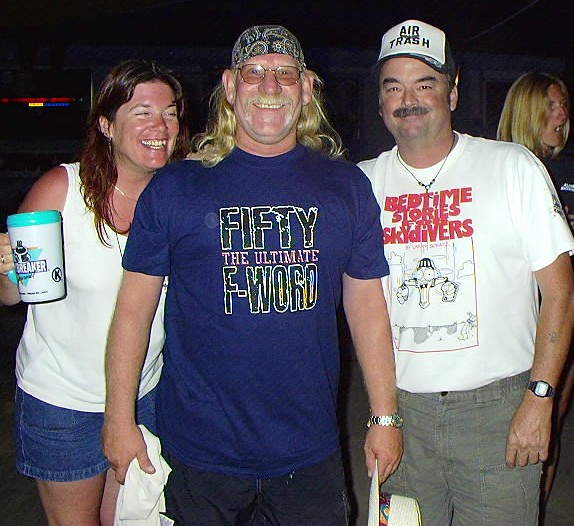 Sad news... Jack passed at 9:11 (az time I presume) as per Emile.
We will have more to say later, for now let's morn our bro.
blueskys & fairwinds,
grayeagle (bill davis) & betty davis


---


I did some of my best skydiving with Jack at Costerisan's Farms. I'll always remember his kindness and that really fun face of his which never had anything but a huge smile on it. I've truly missed Jack all these years since he moved on to Arirzona and will continue to miss him for the rest of my time here. Air Trash has lost yet another one of it's original members.

Rest in peace Brother

Larry D18859
---
Message Posted 4-8-18
from: Bill Deli
Hi Fred,
When I started jumping here in La., we were at the Hammond Airport.. I left in '66 to go into the Navy and eventually Leon Riche moved the DZ to Covington in '69.... he eventually sold the DZ to the "Green County' bunch and on it went!! Doug Ducote organized a "Reunion" last year and followed up this year!! Well, I "Pre Date" 'bout everybody that was there but it was great meeting everyone and telling "Jump Stories" of yester year!! I had my camera but got quite engrossed talkin' with everyone so 'no pics!!" However i was sent this one foto from Truett Miley .. Me with his lady Courtney Jones sort of a random shot!! But I thought to post it to AIR TRASH!! The "Reunion" was Great... we were at the "Chimes" restaurant in Covington, La...
Anyway, "skybill' with my new found friend Courtney at the "Reunion!!"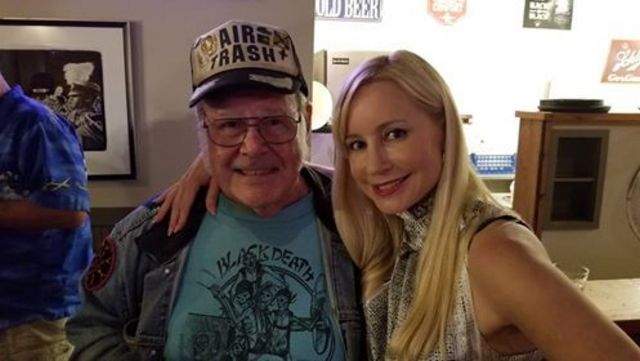 AIR TRASH is Alive and Well in Louisiana!!!!!!
skybill
---
---
Message Posted 3-16-18
from: Fred B.
Three years ago after Air Trash member Brian Williams passed away, his wife Pauline contacted me to inform me that Brian's name wasn't on the "MEMBER LIST". I immediately added it.
Then I saw Pauline's name wasn't on the list either. After asking around, I found out she had never been TRASHED. I was on a mission.
A couple of years went by and it never happened.
This year, when I registered for Pioneers Reunion at Felicity, I saw Pauline had also registered. I sent out messages to a few members, and everyone agreed it should happen.
On the first day of the event a large crowd gathered at the Yuma Landing Bar. There I had the honor of meeting long time Air Trash member Gary Young, SCR-1, and his lovely wife Joyce. That's when I thought it would be great for a "DOUBLE TRASHING". But there are rules and procedures to be followed for a double abduction, none of which can be written down or recorded.
The following day, after the dedication of the "First 8 Man Star" in granite, the Trashing began.
On the 9th day of March 2018, Pauline Williams and Joyce Young were officially abducted into the Air Trash Brotherhood where they both flawlessly sang the Air Trash song as witnessed by a crowd of hundreds and were welcomed to the lowest point of their lives.
them.... them....

Go to the New Guy Page.
---
Message Posted 3-14-18
from: Fred B.
Skydive Cal City will have a reunion on March 24, 25, 2018. I was just told about it last weekend at Felicity, that's why the short notice.
So if you're a Peckerhead, Sky Skum, and of course AIR TRASH, you won't want to miss this. I've heard the Rain Gods will be taking the weekend off so it should be a great turnout.
Fred B.
---
Message Posted 2-6-18
from: Betty Davis
I have been taken off F.B...tried to get back on but.. exile Dec 18, 2018..alive an fine in Arizona..


(that's OK Betty, if it's not on the AIR TRASH website, it's not important.>)
---
Message Posted 1-16-18
from: Donna Wardean
I'm absolutely ecstatic about getting a full granite panel dedicated to The earliest RW and The ARVIN GOOD GUYS at Felicity, CA. on March 9th 2018.... For the next 4000 years.
Gary Young will be attending.NOW Im looking for Mitch Poteet. Rachel (Newell) and John will be there as well. THEN maybe John and Clarice Rinard and other early RW jumpers (and their families) who persevered and eventually changed the Direction of our Entire Sport.
I also would like to speak with Dick Gernand and Art Tucker. Can you help? And, ..... ALL Y'ALL COME!
meDonna Wardean-Dann
Kim Knor has registration info and accommodations info. Jumping on Sat. and she has the whole plan on cadillackim@comcast.net AND Skydivereunions.com?
---
Message Posted 1-16-18
from: Carol Jones
Hey all,
Hope you survived the holiday madness! The teams for the SOS/JOS and WSOS world records are building. Now is the time to get your registration in for these events. We set numerous records last year - lets try to smash them this year!
All the event details including prices and dates are on the website - www.sosworldrecord.com . There is also a registration form which can be used for multiple events.
For those of you who have participated with us in the past, there will be a slight change this year. We will no longer be offering a coach for those who are not on the record team. However, if you want to participate in all the activities other than being on the record team, Perris has outstanding load organizers and I will make sure they know you will be attending. There will still be a place for everyone to skydive.
If you are looking for roommates or ride sharing, send me an email sosworldrecords@msn.com" and I will forward it to those who are registered.
Looking forward to this!!
See ya in April
---
Message Posted 1-5-18
from: Donna Wardean-Dann
Fred...... please post this so that word is spread far and wide.....

Thank you Jay.
Please bring to Jacques attention....I am well aware that Relative Work at that time was highly distasteful to the members of the Style and Accuracy disciplines . However without these men, who were invited to do demos at the 1967, 68, 69 U.S.NATIONALS at Marana Arizona, without these men who continued to pursue this dicipline...regardless of the opinion "the Sport" had in the early days......the RECOGNITION and engraving of the First 8 Women would likely not have been done at Felicity.
We might not have done that WOMENS 8 at all.
Later in the years following the 1965 ARVIN FIRST 8, Jumpers of all diciplines even members of our US Teams came to Taft to learn from these ARVIN men (and women by then) and experience Relative Work... which is today's Formation Flying. At the World Championships in 1970, we the U.S.Freefall ExhibitionTeam took enthusiastic Team Captains from a number of foreign countries with us in the AN2's to experience R.W. I was a member of that team ....the only female member. I saw their faces. I saw their enthusiasm. I could see the future in their eyes.
I had learned everything they knew at the time about RW flying from The ARVIN GOOD GUYS when I started jumping in 1966 at Arvin....they were generous and I ran with it.
Without the accomishments by these FIRST 8 MEN..Our Sport would not be as we see it today. WORLD WIDE! (All but 2 diciplines fly in relation to each other.)
Once again I ask you to fight for their recognition in granite.
If funds need to be raised please let me know...I'm pretty good at that. I live only 2-1/2 hours from Felicity in case a future meeting might be scheduled.
THANKYOU....Their fate is in your hands.

from the webmaster,
Jacques Istel has dedicated a full granite panel for the engraving of "The First Eight" which should be unveiled at the Pioneers Parachuting Gathering at Felicity on Friday March 9th.
---
Message Posted 1-5-18
from: Carol Jones
This is from Kim Emmons Knor - if you have any questions about this event, please email her. Her email address is at the bottom of this article

Subject: Pioneers Parachuting Gathering at Felicity
Just a heads up....... SAVE THE DATES!!!! March 8,9,10 & 11, 2018. The main day for Jacques Istel's events is Friday March 9th.
Attached is what the celebration is all about other than the fact we love to have Reunions at the Museum in Granite!!!
Plan to come for the Landings get together Thursday night and leave on Sunday and you won't miss a thing!! Jumping Friday & Saturday.
Go to Skydivereunions.com sometime this weekend, as soon as the event info is up, and register. $15 per person is a good investment for lots of fun. More information will be added at the website as we get information. Be sure and check in on "Look who is coming" as more people register.
Be ready for lots of fun with lots of great friends!!!!!

Kim Emmons Knor D221
Pioneers of Sport Parachuting
720-217-2965
---
Message Posted 12-19-17
from: Carol Jones
Hey all
Registration is now open for the 2018 SOS/WSOS/JOS world record formation and sequential skydiving events. Please visit the website www.sosworldrecord.com for all the details and the registration form.
Have a very Merry Christmas and a wonderful New Year!!
See ya in April
---
Message Posted 10-14-17
from: Donna Wardean
I guess these things get into your blood and never go away.
No it isn't mine. She just let me sit on it for a photo at a car show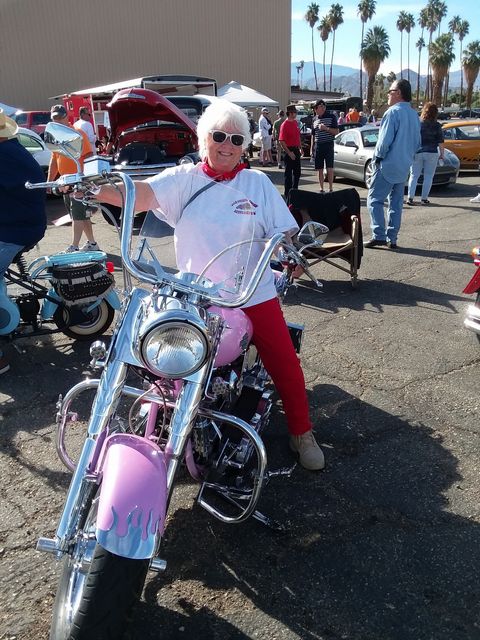 Over Coachella Valley. Yesterday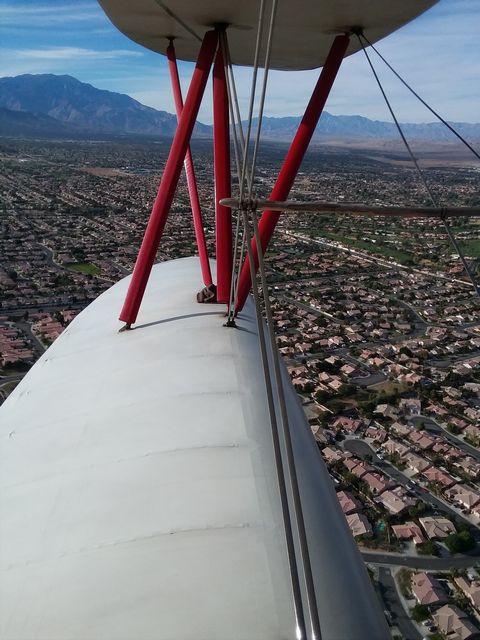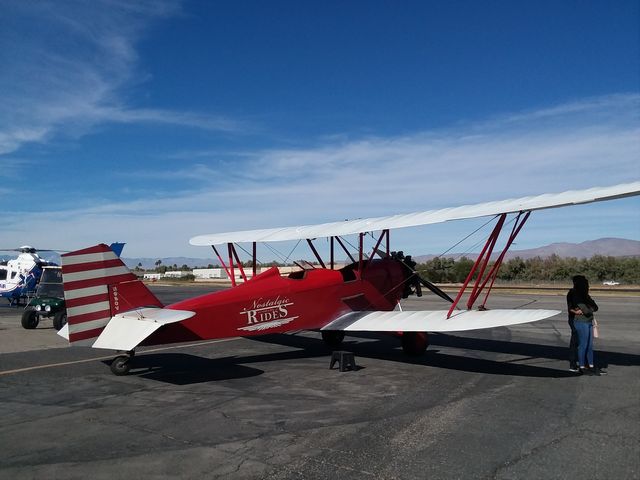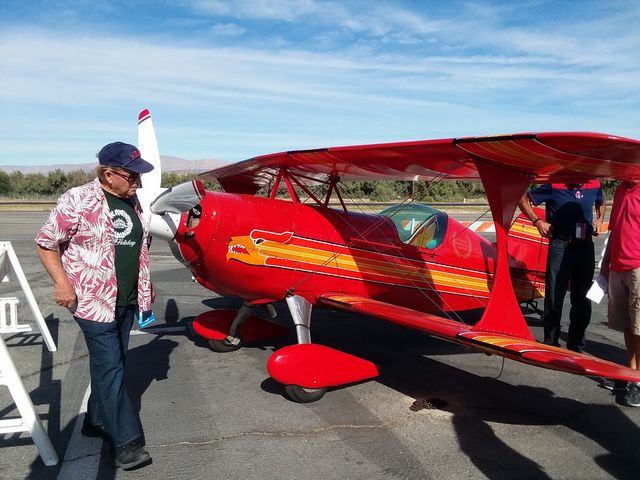 Does it say INVERTED???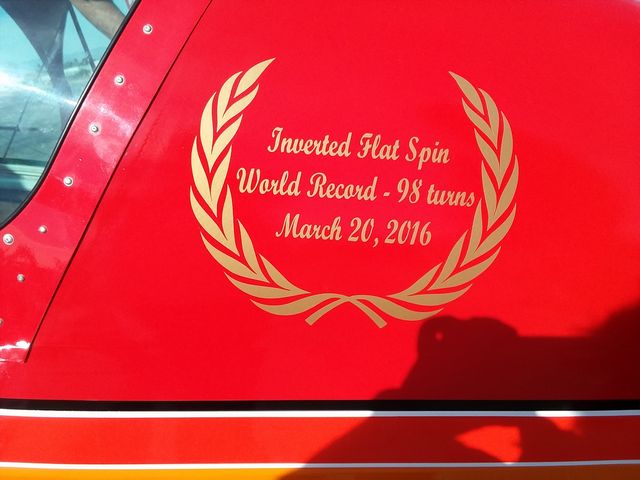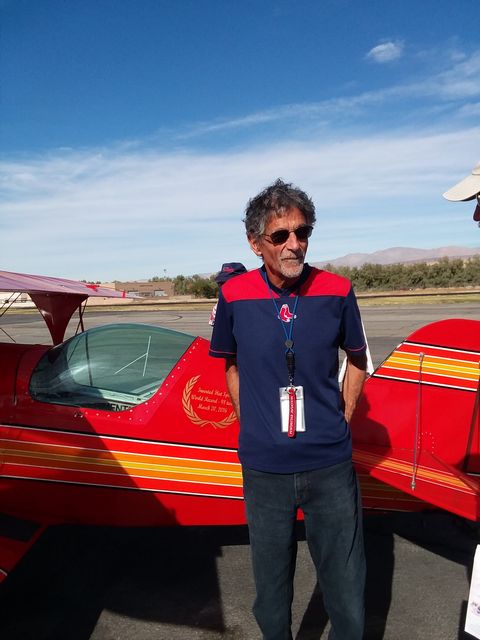 Look how LITTLE this thing is.
I saw him take off when he left. He ran a short distance down the runway.... pulled back the stick.. shot straight up until out of sight!
---
Message Posted 10-15-17
from: Fred B.
Spike and Bob Sinclair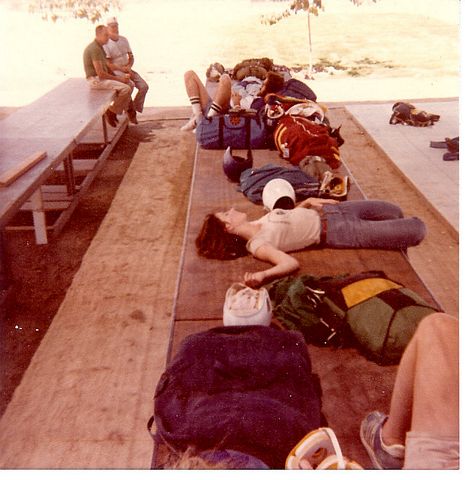 Bring back memories?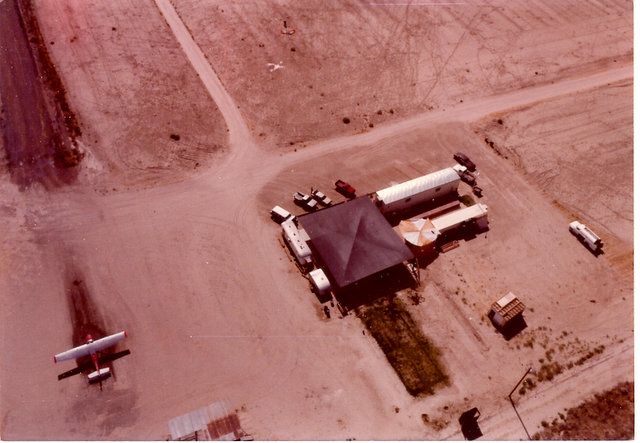 Skydivers Go Down Faster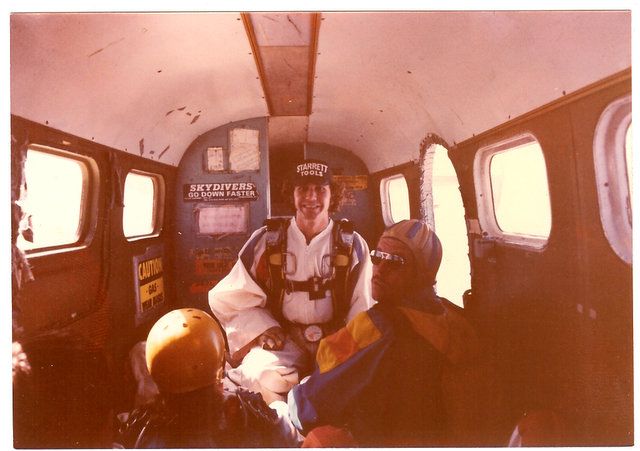 Hard to believe it's been 35 years. 10/17/1982 R.I.P.
---
Message Posted 10-13-17
from: Randy Green
Lyle Cameron's daughter Amber with Lyle's grandson, my godson rock'n his Air-Trash lid,, and yes Clyde sang the Air-Trash song to me twice!-"him,him". Amber is already Air-Trash so like mommie I am nominating Clyde for induction into the brotherhood!-Thanx Fred--Stinky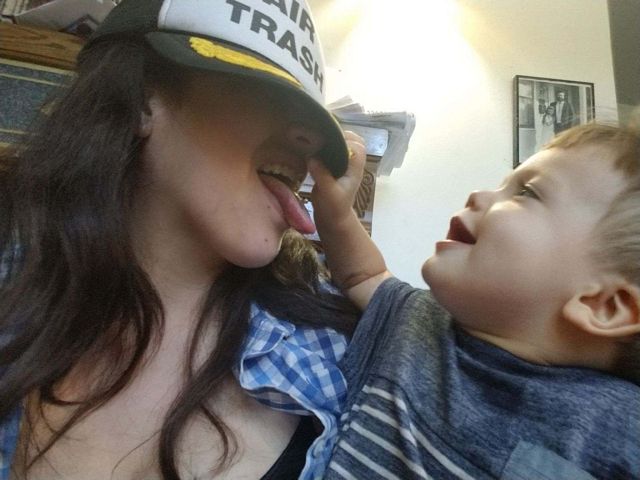 perfect fit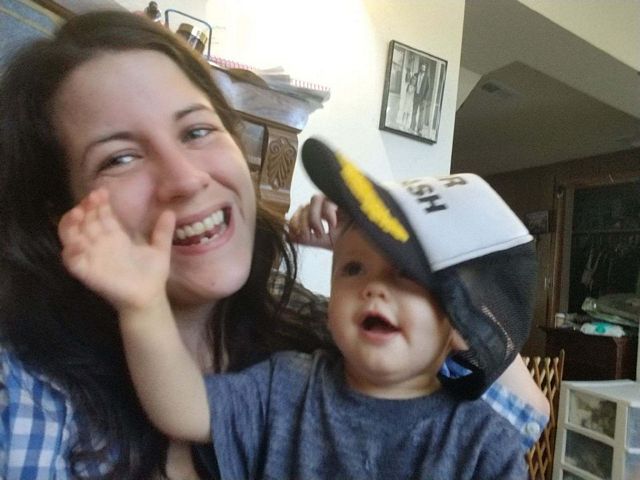 ---
Message Posted 9-5-17
from: Bob Butt
Air Trash Relief - loading up for Operation Airdrop. First mission flight to Conroe, TX. Friday. Remembering the support of all youse guys during our own little episode. Thanks again.
Bob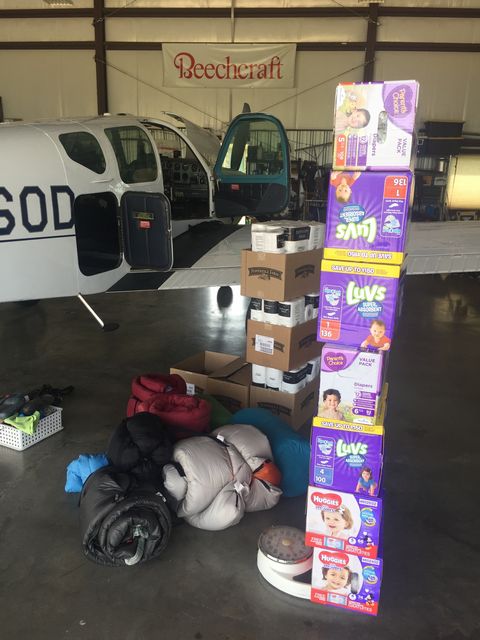 Almost ready. A couple guys I know got this going and we had about twenty aircraft at any one time yesterday going to the smaller airports.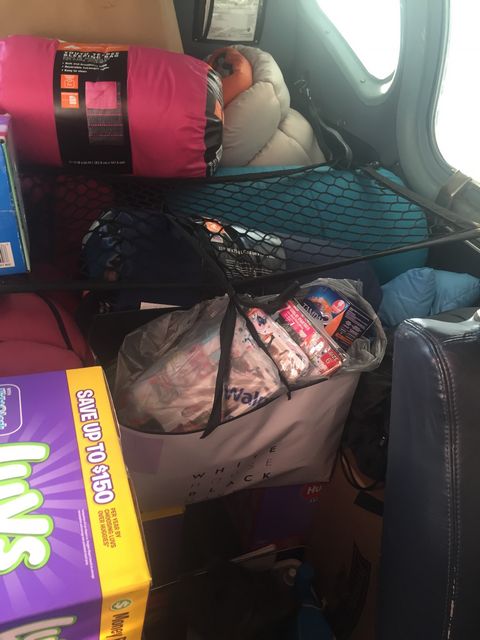 Thanks Bob. Ya see, we're not just a bunch of dirty bastards. . . . .
---
Message Posted 9-3-17
from: Bill Deli
Hi Fred...and all,
By now you are getting or have gotten your Sept. 2017 "Parachutist" in the mail!! 'Figured with as many "inputs' they get I'd stand a "Snoball's chance in Hell" for getting my photo published!! My sis took me to New Orleans for my B'day and we walked around the "French Quarter" and played "Tourist!!!' Got a photo up on the Mississippi river bank levee looking toward "Jackson Square!!" .....They "Published it!!!" there on page 10 in the "Parachutists around the world!!" That's me in my "Gold Coast Skydivers" Tie-dye T-shirt and my new "River Boat Gambler Straw Panama Hat!!" that my sis got me for my B'Day!! Take a good look!! Andy still stands in spite of rumblings of of his demise by antifa and other "Mercenaries."
For the record, Andy was visiting New Orleans in 1814 and unbeknownst to him and everyone, the "Brits" were pulling into Lake Borgne east of New Orleans and were going to advance, take New Orleans and secure control of the mouth of the Mississippi River thus strangling US Commerce!! Word got down town and Andy mustered his troops, all able-bodied men of New Orleans and the help of Jean Lafitte "The Pirate!!" (He plundered only Brit flagged ships and left the US alone thus he got to hang out here) and all his men and needless to say when the Brits got to Chalmette they "Got Wacked!!" Thus Andy stands Tall in "Jackson Square" in front of the St. Louis Cathedral!! Had Andy and the troops failed.... we'd be paying our taxes to King George and his descendants!!!!! Yer' "Dixie Trash" History lesson for the day!!
Blue skies,
skybill-out
PS: Add on photo, me and my little sister Rose by "Andy!!!"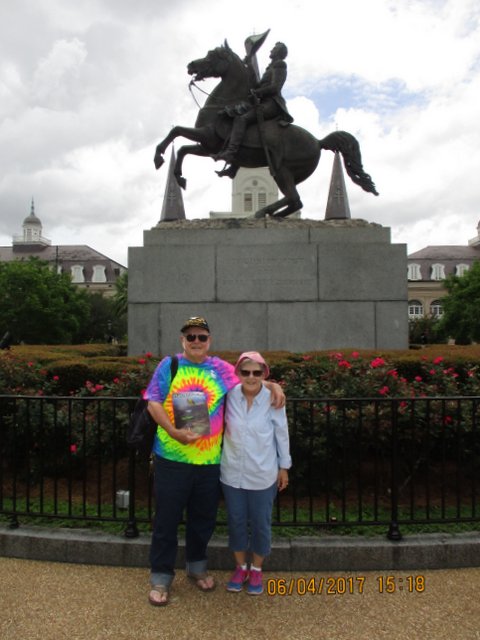 Happy "B-Day", 'ya Silly Tit
---
Message Posted 8-29-17
from: Frank Venegas
Hoping someone can get me the name and number of the photographer(s) who filmed the 2 jumps we made with Steve Fieldings group for Al Frisby's 24 hour Badge, It's been quite a few years, but I would like to get a copy of those jumps.

I am at,
Email: fvscr67@yahoo.com
---
Message Posted 8-24-17
from: John Bull
Hi Freddy,
I love the new Photo Of The Month Larry sent in.
Close to 5000 jump milestone. 4992 jumps logged. Will make 2 or 3 leaps today & finish up the rest on on Saturday.
# 5000 will take place in the afternoon/evening (possibly even the sunset load)... just depends on how the day plays out.
Arrgh arrgh arrgh
---
Message Posted 7-30-17
from: John Patterson
Hello,
My Dad was in Air Trash in the 70's with Richard and Dirty Al (Dirty Ed, Al Frisby). I remember a bunch of the guys and I have a couple of Pics that should be on the page. By the way he was John Patterson and married Bob Butt's sister Marilee in '87 or so. He passed in 2008.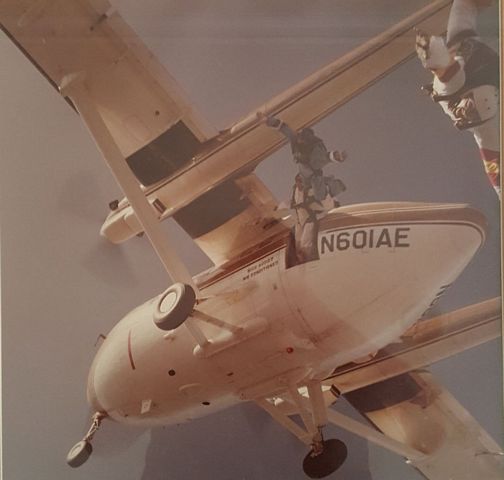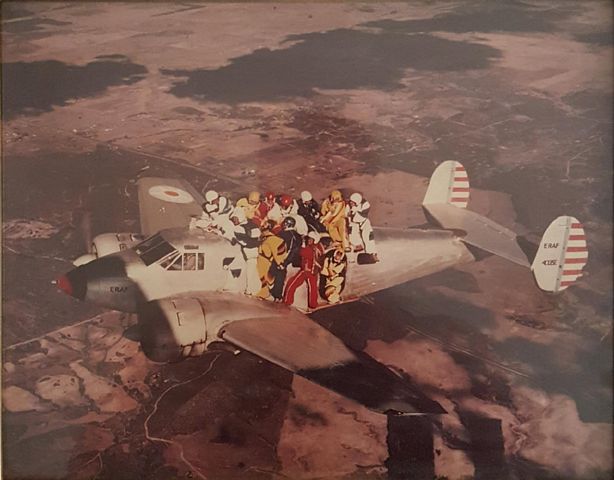 By the way he has the blue Cooper Hockey helmet in both pics.
Here is another one of some "Trash". I believe the "Godflicker" Mike Jenkins took this photo.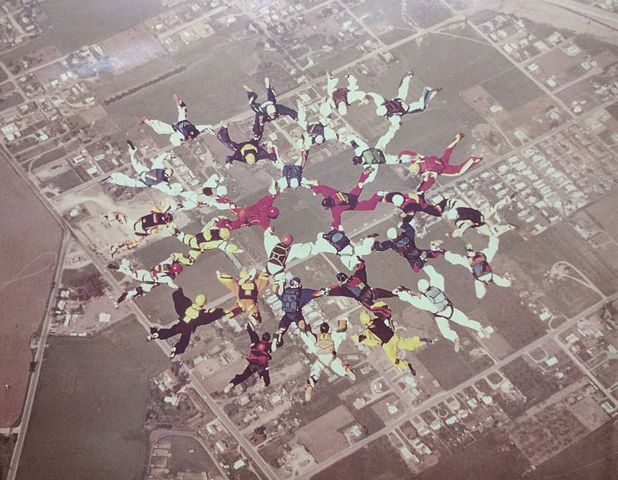 Best Regards,


---
Message Posted 8-24-17
Another good picture of John Patterson early on in about '78.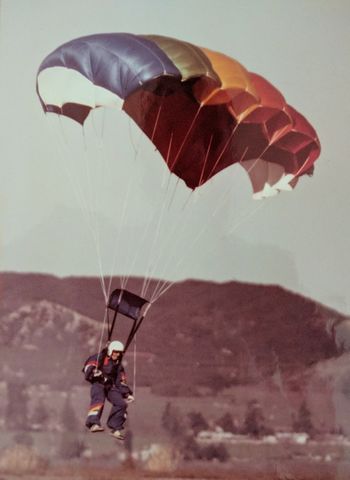 Best Regards,
---
Message Posted 6-5-17
from: Carol Jones
----- Original Message -----
From: Frederick Bremer
To: Carol Jones
Cc: james mcnair
Sent: Thursday, June 01, 2017 8:14 AM
Subject: 182

Carol,
We are having problems locating a 182 for Adirondack Skydiving Adventures, located in Fort Ann, New York. Our current aircraft is out of commission. The timing is critical with summer already upon us. We are looking to buy, but a lease will do.
Can you help me to get the word out to all the POPS and SOS members?

Thank you,
Frederick G, Bremer AIA, NCARB

Bremer Forensic Consultants
1447 Dean Street
Niskayuna, NY 12309
Tel: 518.578.1180
Email: fgbremer@nycap.rr.com
---
Message Posted 6-5-17
from: John Bull
Hi Freddy,
Normally when an Air Trash guy gets profiled, it's done by local law enforcement agencies... Ha!
Bully
---
from: Bob Butt
Yea Bully!
---
from: Larry Walsh
Congratulations Bully. Yet another way to get in a cheap plug for Air Trash!
Larry/ST135


---
---
Message Posted 5-15-17
from: Larry Walsh
Hey Guys,
In two days Animal and his wife will be here in Central Nevada visiting for a few days while on their cross country trip. Of course I will be doing some photo taking and video during their stay. So keep an eye on my You Tube channel to see what the old buzzard is up to during his visit.
Everything is wonderful here at my new place in the Nevada desert. I love being here. The people are fantastic and my new property is everything I had ever hoped for. To see what I'm up to all you need to do is go to my you tube channel. Always something going on there. http://www.youtube.com/mobiltec.
Hope all is well with you guys. Stay safe and blue skies.
Larry
ST-135


---
Message Posted 2-9-17
from: John Deluca
On the original Air Trash photo (history of air trash), people actually in the photo:
Bob (space) Atkins, John Deluca, Joe Shepherd, Jumpin Jack Flash, Richard Hayden, Ed Ryan, Larry Fatino, unsure of the rest at this time.
Thanks, John Deluca D10097, Silly Tit #70, Airtrash #
---
Message Posted 2-2-17
from: Fred B.



Below is a 1998 Harley Davidson FLHTCI, that belonged to long time Air Trash member Jim Dann, SCR 6. As you know, Jim passed away in August of last year and his wife Donna now has the sad task of selling this beautiful bike.
I picked up the bike and took it to my shop where I put in a new battery, fuel lines, fuel pump, fuel filter, and had the injectors professionally cleaned and tested. The bike had been garaged for the past two years and has just over 32200 miles, most of which are highway miles.
This is an exceptional touring motorcycle. It's never been abused and has been very well maintained.
It has everything you could ask for on a dresser for comfort, list too long to post.

* * UPDATED 12-14 * *

SOLD - SOLD - SOLD



Jim's Harley sold at auction. I'm sure it went to a good home.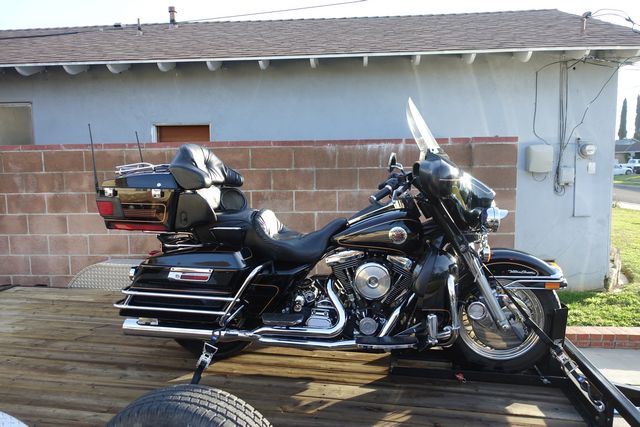 ---
Message Posted 11-20-16
from: The Webmaster
Donna launches a new website called GREATGEARX.org, with a focus on Novice and new "A" license skydivers.
Donna writes:
"I am Donna Wardean. I started jumping in 1966 at Arvin, California...(the cradle of Relative Work).
In the early days, in the mid 60's, my peers were generous in sharing what they knew aboout RW. How to get from point A to point B (today this genre is formation flying of various types).
Well, they were big,,, I was small. Their advice didn't always translate or work for me but it gave me a place to start. I loved the sport and challenge... and I had a great career! So as others followed me, I paid it forward. My personal passion has ALWAYS been to help people who were young in our sport to Grow, Mature and Flourish. That is something that came naturally to me because my peers, those early RW men... the Arvin Good Guys shared what they knew with me."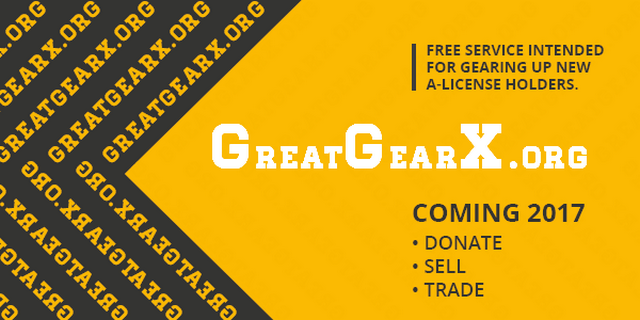 This site isn't just for the Novice Skydiver, it's for anyone that wants to buy sell or trade skydiving related gear.
This and other great links can be found on the Air Trash "LINKS" page.


---
Message Posted 6-2-15
from: Tim Long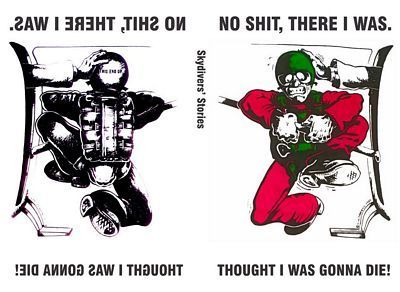 These memorable images, by artist Rob Thundercloud and donated by Tom Sanders are the book cover.

Well, Doug and I have gotten so many requests to do another NSTIWTIWGD book of stories
that we are going to give it a try.

So if you got any you would like to submit to us then email me the story at tim_j_long@MSN.com

Thanks,,
Tim
---
Click HERE to leave a message. Keep it short and Type it exactly as you want it to be seen.