Message Posted 7-30-17
from: John Patterson
Hello,
My Dad was in Air Trash in the 70's with Richard and Dirty Al (Dirty Ed, Al Frisby). I remember a bunch of the guys and I have a couple of Pics that should be on the page. By the way he was John Patterson and married Bob Butt's sister Marilee in '87 or so. He passed in 2008.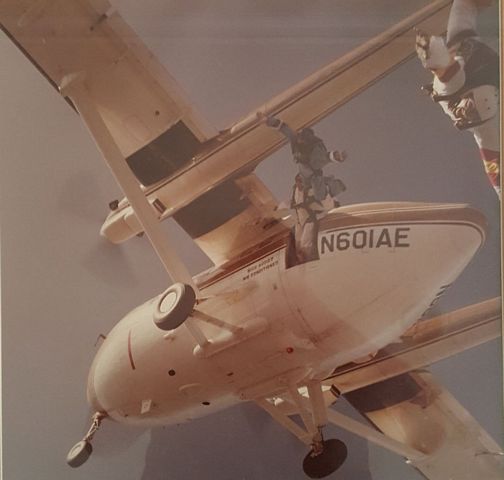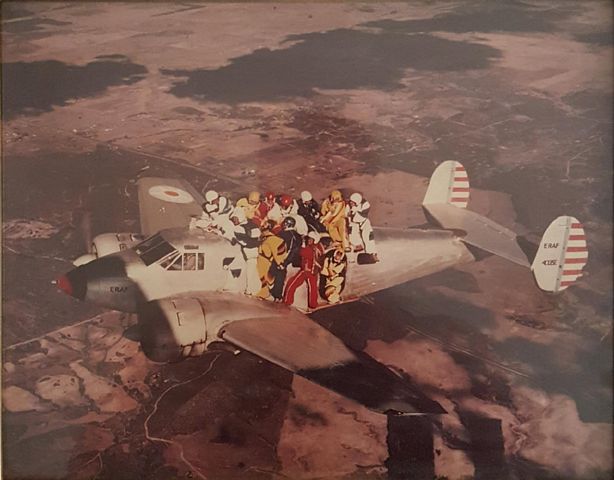 By the way he has the blue Cooper Hockey helmet in both pics.
Here is another one of some "Trash". I believe the "Godflicker" Mike Jenkins took this photo.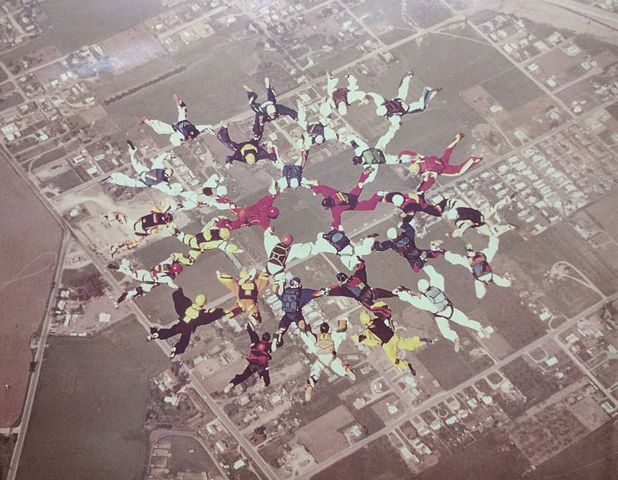 Best Regards,
---
Message Posted 6-28-17
from: Fred B.
Animal and Sheryl took their motorhome on a cross country road trip stopping and visiting with some
Air Trash along the way.
The photos they sent in can be found on Page 2 of a webpage that Larry Walsh, the founder of AIRTRASH.COM, had made 10 years ago. It's called the Fun Page". A lot of stuff there to see.
Many Thanks to Larry
---
Message Posted 6-5-17
from: Carol Jones
----- Original Message -----
From: Frederick Bremer
To: Carol Jones
Cc: james mcnair
Sent: Thursday, June 01, 2017 8:14 AM
Subject: 182

Carol,
We are having problems locating a 182 for Adirondack Skydiving Adventures, located in Fort Ann, New York. Our current aircraft is out of commission. The timing is critical with summer already upon us. We are looking to buy, but a lease will do.
Can you help me to get the word out to all the POPS and SOS members?

Thank you,
Frederick G, Bremer AIA, NCARB

Bremer Forensic Consultants
1447 Dean Street
Niskayuna, NY 12309
Tel: 518.578.1180
Email: fgbremer@nycap.rr.com
---
Message Posted 6-5-17
from: John Bull
Hi Freddy,
Normally when an Air Trash guy gets profiled, it's done by local law enforcement agencies... Ha!
Bully
---
from: Bob Butt
Yea Bully!
---
from: Larry Walsh
Congratulations Bully. Yet another way to get in a cheap plug for Air Trash!
Larry/ST135


---
---
Message Posted 5-15-17
from: Larry Walsh
Hey Guys,
In two days Animal and his wife will be here in Central Nevada visiting for a few days while on their cross country trip. Of course I will be doing some photo taking and video during their stay. So keep an eye on my You Tube channel to see what the old buzzard is up to during his visit.
Everything is wonderful here at my new place in the Nevada desert. I love being here. The people are fantastic and my new property is everything I had ever hoped for. To see what I'm up to all you need to do is go to my you tube channel. Always something going on there. http://www.youtube.com/mobiltec.
Hope all is well with you guys. Stay safe and blue skies.
Larry
ST-135


---
Message Posted 3-14-17
from: Carol Jones
Hey all,
This is it - Last Call for registration for the 2017 SOS/JOS and WSOS world records. Yep, it is the middle of March already.....
Those of you who have emailed me to say you are trying to work your schedules out to make the events - can you please let me know if you are still working on it or if you now have a positive yes or a negative no.
We now have 32 JOS / 17 WSOS and 70 SOS registered for each of the world records. Come and play with us!!
Hope to see you in April,
Carol

All details and registration form located at www.sosworldrecord.com.


---
Message Posted 2-11-17
from: Carol Jones
Hey all,
Registration is shaping up nicely for the upcoming SOS World Record event. We have 20 registered for the Warm Up Weekend, over 50 for the SOS World Record, 7 for the Women's World Record, and 21 for the JOS World Record.
There is still plenty of room in the Warm Up weekend and I know there are several who have not yet signed up for the JOS record and the SOS world record. And ladies, please get your registrations in - there are a lot of you who have said you are coming but have not yet registered.
All registration details including costs and the registration form are on the website - www.sosworldrecord.com.
Just as a word of caution, if you are trying to access the website from your mobile device, the "free" mobile site does not work very well.
Also, I have not said this in a long time, but I do not release your email addresses to anyone, other than the plane captains. If folks want things sent out to you, I require they send me an email to forward to you. I do this to protect your privacy.
Listed below are the events that are coming up in the next few months. Hope to see you all at a few of them!!
POPS Springfest - Mon March 27 to Sat April 1 - Florida Skydiving Center in Lake Wales, Florida.
For more information, www.floridaskydiving.com.
JOS World Record jumps during the POPS Springfest.
For more information, please contact Russ Manhold flycustoms@bellsouth.net.
FAST 50 - Falls for the Balls - April 14th thru April 16th at Skydive Arizona.
For more information, please contact Steve Woodford at sasteve49@gmail.com.
SOS World Record Events - all held at Skydive Perris
April 21 to 23 - JOS World Record
April 22 to 23 - Warm Up Weekend
April 23 to 24 - Women Skydivers Over Sixty World Record
April 26 to 30 - SOS World Record
For more information, please see the website - www.sosworldrecord.com.
POPS Nationals - Wed Sept 13th thru Tues Sept 19th at Chicagoland Skydiving Center, Rochelle IL.
For more information, www.skydivecsc.com/.

See ya all soon


---
Message Posted 2-9-17
from: John Deluca
On the original Air Trash photo (history of air trash), people actually in the photo:
Bob (space) Atkins, John Deluca, Joe Shepherd, Jumpin Jack Flash, Richard Hayden, Ed Ryan, Larry Fatino, unsure of the rest at this time.
Thanks, John Deluca D10097, Silly Tit #70, Airtrash #
---
Message Posted 2-5-17
from: Fred B.
Once again, Skydive Taft will be hosting the annual "Ol' Farts" meet. This year the dates are May 26, 27, 28.
This year is also the 50th anniversary for the Star Crest Awards program and a commemorative patch will be available.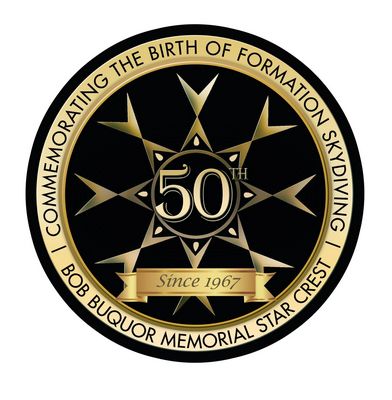 In recent years several awards have been added to list. The first HSCR and HSCS awards were achieved on May 30, 2015, the 50th anniversary of the first 8-man star.

Go to the Ol Farts page and click the "Add Me" link and send in your name to be added to the Attendance List. There you'll also find directions, links and phone numbers to local lodging. Make your reservations early as rooms do fill up quick.

* * UPDATE 4-30-17 * *


This year Rachael Newell will be issuing "Hoop Dive" awards, as part of the STAR CREST AWARDS PROGRAM.


---
Message Posted 2-2-17
from: Fred B.
Below is a 1998 Harley Davidson FLHTCI, that belonged to long time Air Trash member Jim Dann, SCR 6. As you know, Jim passed away in August of last year and his wife Donna now has the sad task of selling this beautiful bike.
I picked up the bike and took it to my shop where I put in a new battery, fuel lines, fuel pump, fuel filter, and had the injectors professionally cleaned and tested. The bike had been garaged for the past two years and has just over 32200 miles, most of which are highway miles.
This is an exceptional touring motorcycle. It's never been abused and has been very well maintained.
It has everything you could ask for on a dresser for comfort, list too long to post.
For more photos and information, contact Air Trash at jumpairtrash@gmail.com.


---
Message Posted 11-20-16
from: The Webmaster
Donna launches a new website called GREATGEARX.org, with a focus on Novice and new "A" license skydivers.
Donna writes:
"I am Donna Wardean. I started jumping in 1966 at Arvin, California...(the cradle of Relative Work).
In the early days, in the mid 60's, my peers were generous in sharing what they knew aboout RW. How to get from point A to point B (today this genre is formation flying of various types).
Well, they were big,,, I was small. Their advice didn't always translate or work for me but it gave me a place to start. I loved the sport and challenge... and I had a great career! So as others followed me, I paid it forward. My personal passion has ALWAYS been to help people who were young in our sport to Grow, Mature and Flourish. That is something that came naturally to me because my peers, those early RW men... the Arvin Good Guys shared what they knew with me."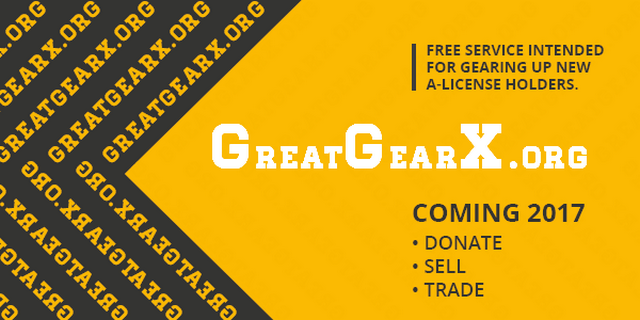 This site isn't just for the Novice Skydiver, it's for anyone that wants to buy sell or trade skydiving related gear.
This and other great links can be found on the Air Trash "LINKS" page.


---
Message Posted 6-2-15
from: Tim Long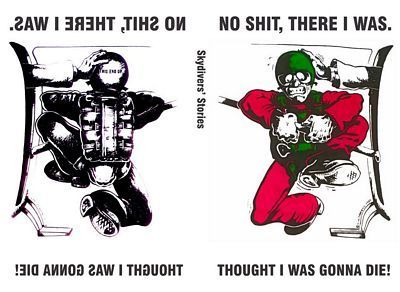 These memorable images, by artist Rob Thundercloud and donated by Tom Sanders are the book cover.

Well, Doug and I have gotten so many requests to do another NSTIWTIWGD book of stories
that we are going to give it a try.

So if you got any you would like to submit to us then email me the story at tim_j_long@MSN.com

Thanks,,
Tim
---
Click HERE to leave a message. Keep it short and Type it exactly as you want it to be seen.