Message Posted 11-1-18
from: Fred B.
Don Vredenburg passed on Tuesday, 10-30-2018. I haven't recieved any information yet.
I'm setting up a memorial page, so if you have any photos or thoughts you would like to share please send them to jumpairtrash@gmail.com
---
Cory Vredenburg
writes:
Dear family and friends on Don's facebook account. This is Cory, Don's son. Dad passed away yesterday morning. We will be having a memorial service in Calif, not sure of the date yet. We will let you all know.....
---
Thomas Fredriksen
writes:
A great visit last year. We will miss you Don.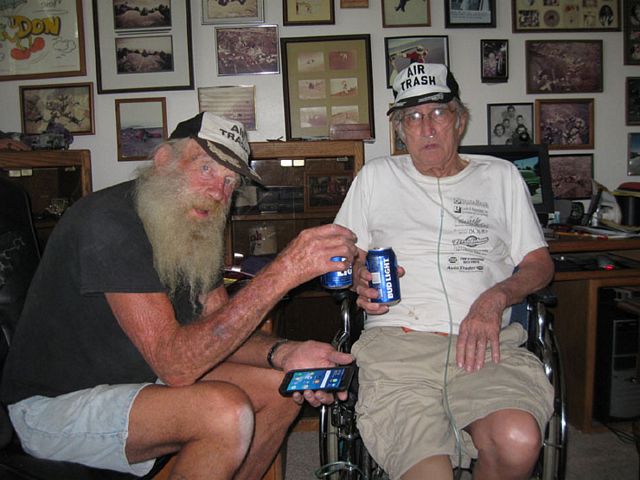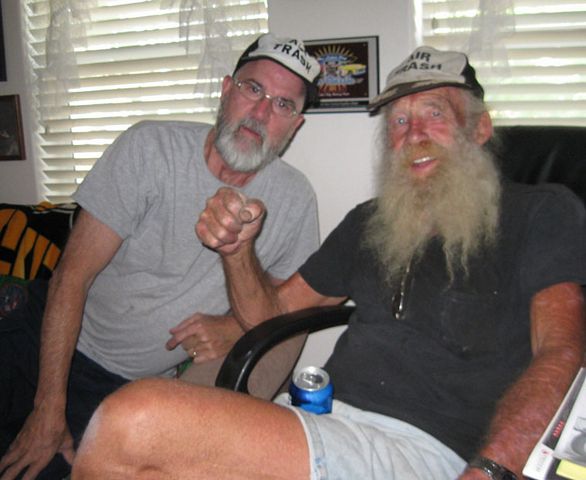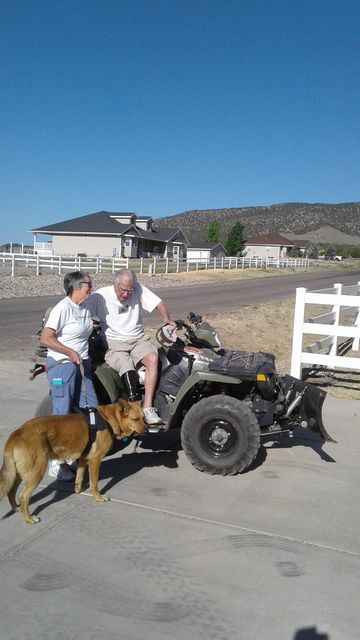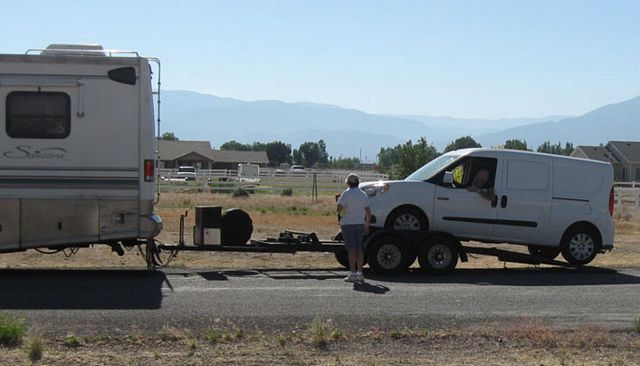 "Animal"
---
Anne Williams
writes:
Dear Don your my buddy and close friend of mine. We could talk about family getting caught up with each other even though time, distance never interfered. Visiting you and Joanne in Utah made my connection with ALL very real I will miss you Always....
Together Forever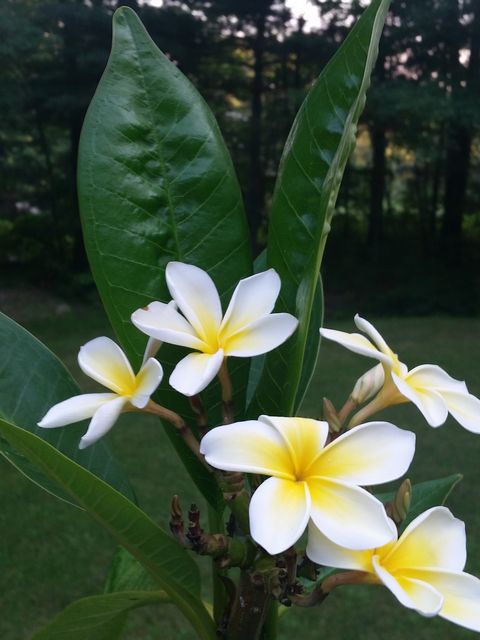 ANNE WILLIAMS
BLUE SKIES
---
Message Posted 10-25-18
from: Donna Wardean
SAVE THESE DATES - FEBRUARY 14 - 17, 2019
HUGE 90th BIRTHDAY BASH FOR JACQUES ANDRE ISTEL - WOW!!!
He set the foundation for parachuting as a sport in the USA and here we are 62 years later all enjoying the sport and the friends we have made in it.
Please come and celebrate with Pioneers of Sport Parachuting as we honor this amazing crazy man with a piece of the Eifel Tower in his front yard, a man with incredible vision!
Go to SKYDIVEREUNIONS.COM for all the info on accommodations and we will be updating it as we secure more activities. We have the plane, the pilot and the place for an amazing Valentine's Day weekend
Registration information with be posted by the coming week. Keep a watch.
Questions?? call or email: Kim Knor, 720-217-2965, cadillackim@comcast.net.
SPREAD THE WORD!!!
---
Message Posted 9-23-18
from: Jan Works
Dear Friends and Family,
It was one year ago today that Pat Works was inducted into the International Skydiving Museum's Hall of Fame. I thought that those of you who were not present at the ceremony at Skydive Chicago might enjoy the video footage recorded and edited by Skydive TV, the Museum's media partner.
You will find the episodes of the 2017 celebration at:
https://www.skydive-tv.com/2017-skydiving-museum-hall-of-fame-episode-3/
At the bottom of the screen, to the right of where it says "Select Episodes" click the drop-down (red box) and select the third one down, titled "2017 International Skydiving Hall of Fame Celebration Event".
Emcee and Museum President Curt Curtis introduces Pat Moorehead around the 19:30 mark, and Pat's introduction and personal recollections of (our) Pat and his contributions to the sport begin at 20:18. My acceptance on behalf of Pat begins at 23:35.
Enjoy!
Love, Jan
---
Message Posted 9-7-18
from: Fred B.
New Air Trash caps are in!
Just got a new supply of high quality custom made A.T. caps. The price is $12.00 + S$H from North Hills, CA 91343. Shipping will be with UPS. Don V. had these made, thanks Don.
Send in your order to: jumpairtrash@gmail.com. Or, if you want to save on shipping, next time you see me at the DZ, ask me. I usually have a few with me.
As a reminder, if you got a new cap in the past at no charge, those were supplied and donated by Pete Hill.
So next time you see him, buy him a beer or two!
Next time you see Don, buy him a beer too!
Hell, while your at it, , , I'll also have one!
---
Message Posted 9-3-18
from: Randy Green
Hi Fred,
If you can I would appreciate if you could post this SOS as I will be served with papers if I don't pay all my back rent and current rent-a little over 4 grand! I have started a GoFundMe.com page under the heading of ''RANDY'S KEEP ME OFF THE STREETS'' campaign. When one pulls this up they will hear my story as to how I got in this situation. I figure most people I know, know me though skydiving so this should help me.
This Air-Trash brother just needs a little help 'till my V.A. benefits kick in. You might quote me as saying ''no amount to small as I could use any help!'' I really hate doing this Fred as I have never asked for public help, but I need to keep my apt. for obvious reasons.
Thank-You very much for posting this. I will personally thank everyone!
--BSBD Fred and keep safe.
Randy also writes,
Members can also get on my Facebook page and click on my gofundme photo with a link to my campaign.

* * UPDATE * *
Here's a direct link to Randy's gofundme page
https://www.gofundme.com/randy039s-keep-me-off-the-streets
---
Message Posted 8-13-18
from: Bill Deli
Hi Fred,
'Was visiting my friends Kevin and Terry just down the road Friday night!! We were out on the Patio/Bar / "The place to be!!" 'Was just cruzin' along into the AM's.... listening to good tunes, sippin' the Bud Light's and tastin' some cut up fresh, hot "Sour Dough Bread" I just popped out of the oven before I came over!! Terry whipped up some melted hot butter and olive oil dip with fresh herbs!!! OMG was it GOOD!!
'Was sayin' something to Kevin and felt this "THUMP!!!" on my "AIR TRASH HAT brim!!" Everyone started laughing and Terry said,"Bill, There's a 'Tree Frog' just jumped on your hat!!!" Kevin grabbed his phone and took the picture!! Sure enough it was "Carlos Gene!!!!" I took my hat off to get a look at him then he jumped off into the bushes with his compadres!!!
Kevin posted it to my page on "Faceplant",,, "Bill Deli" you can find it!!
I'd have ta' say this has to be an "AIR TRASH FIRST!!!!!!!" So, now in the bushes at Kevin and Terry's lives the "Mascot" of "Dixie Trash!!!!!!!" "HOORAY FOR CARLOS, HOORAY AT LAST,,,,, 'you know the drill!!'"
"Laissez Les Bon Temps Rouler!!!!!!!,"
"Let the Good Times Roll,"
skybill-out
Head Honcho...... "Dixie Trash!!!"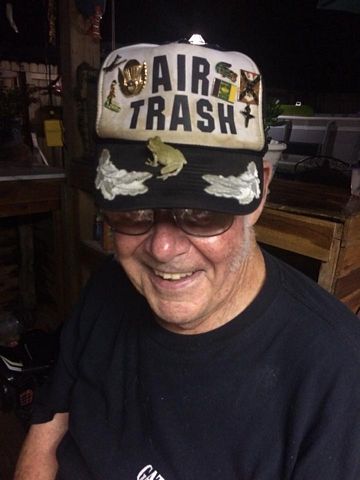 Bill and Carlos Gene
PS.... Yer' all probably wonderin',.... "So, who's 'Carlos Gene???" Well, remembern' our old AT Buddy the late "PAT WORKS" who needs no intro.!!! "Carlos Gene" is "Carlos Gene GODFROG!!!!" .. Anyone remember the "GODFROGS??" There' a "LOT!!!" more to the story but it's already 03:00 Monday here and I got things to do in a while and gotta hit the sack..... I will write up the story and post it to the "History of Air Trash" Page later..... It won't be long and I'll let you know when I do!!
---
Message Posted 7-26-18
from: Bill Davis
Came across a skydiving photo from 1973. Photo by Ray Cottingham.
This is the first all Navy "ten man star" with most jumpers from SEAL Team One. Some to go on, with me, to the US Navy Parachute Team (the Leap Frogs). I am in the red-white-blue jumpsuit on the right... yes, I'm looking at the camera.
Just an old picture to relive my past... but cool.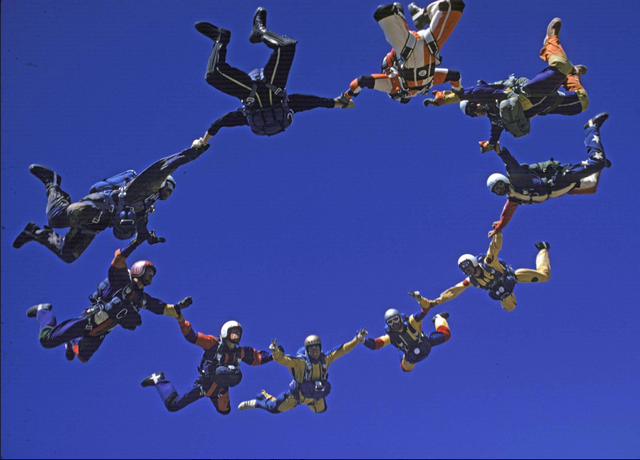 blueskys & fairwinds,
bill davis, scr97
---
---
Message Posted 7-2-18
from: Bill Deli
Hi Fred,
Here's the photo of "DAVE PASCHAL" our latest "DIXIE TRASH" Member!!! Photo taken at "SKYDIVE RAEFORD aka PARACLETE XP!!" With Dave is "Her Majesty The QUEEN!!!! ... PAT THOMAS!!!" The head Honcho of "SUNPATH!!" of which I am proud to be an Alumni.. Former Final Assembly Quality Assurance Inspector!!!........(also sewing machine mech, "Seamster*," Rigger and general "Man-about-the-shop!!!"
Yup, AIR TRASH is taking over the world ......one hat at a time!!!!!!!
"Who's Next????
BSBD,
skybill-out

(*) SEAMSTER...... the "MALE" version of a "Seamstress!!!!"
---
Message Posted 7-2-18
from: Nancy Kemble

ONLINE REGISTRATION IS NOW AVAILABLE!
Join us November 1 – 3 at Skydive City in Zephyrhills, Florida, for the 2018 International Skydiving Hall of Fame Celebration! Our annual weekend fundraiser of jumping, celebration, catching up with old friends and making new ones, and chatting with skydiving's legends has become the go-to event for the skydiving community! Go to our website at http://skydivingmuseum.org/celebration-event and select "Register". You can also download the registration form and register by mail. We accept all major credit cards. While you are there, be sure and check out the schedule and activities. Also, take a look at the sponsorship and display opportunities…you can buy a support banner for as little as $100.
---
Message Posted 5-19-18
from: Bill Deli
Hi Fred and all,
It's still 08MAY and the 54th anniv. of my first "Aircraft un-assing!!" (To those too squemish to not puke at the comment, it means "Jump from a not so perfectly good aircraft in flight!!) YUP!! 54 YEARS!! 'Posted a bunch of stuff on my "FB" page... check it out!! I'll post a bunch here!!
First 3 are my first jump. #4 I was settin up on landing and I saw "The Late" Mike Lee sittin in the peas with a camera, wavin' at me and pointin' at the camera!! No problem GI!! Great shot!! Last one ...about '79 jumpmaserin' a bunch of students and Norm Kent was "TAKIN' PICTURES!!" said', "I'll shot your exit!!" "Yer' lookin at it!! Photo by the Great NORM KENT!! I hope Richard or somebody gave him a "AIR TRASH HAT" because if anybody deserves one..he does.. !!!
Go to my "fb" page for more photos and "Comments!!!!'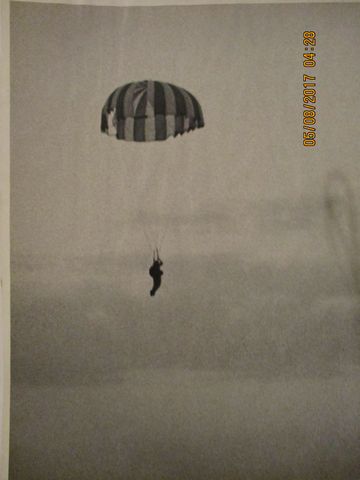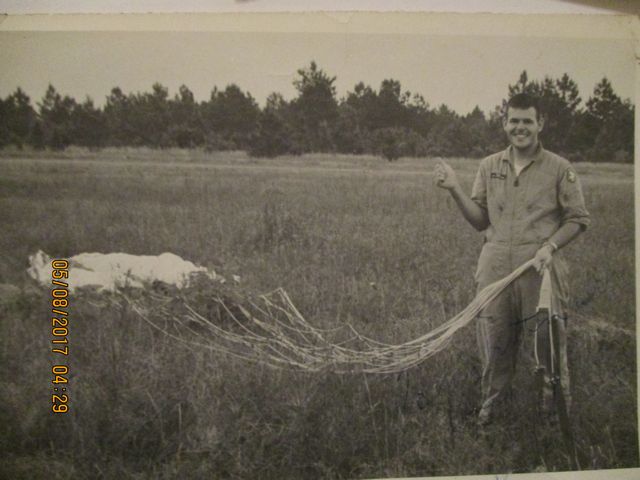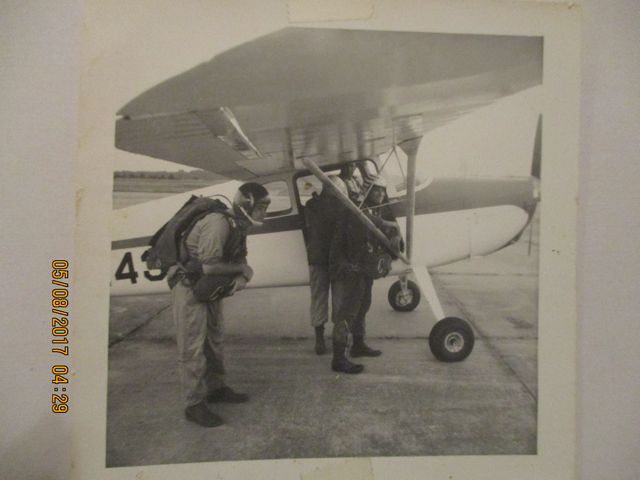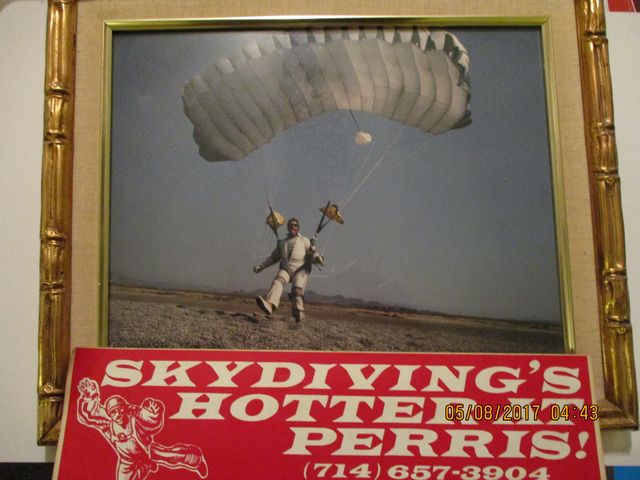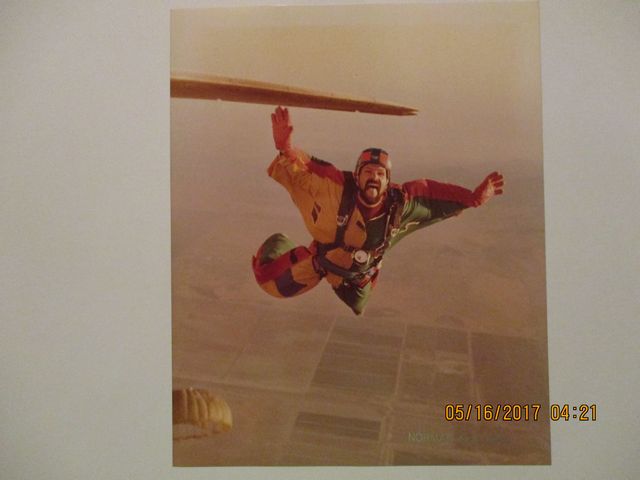 Head Honcho, "DIXIE TRASH!!!!"
skybill- B-4240, C-3114, D-6009, SCR-2034, SCS-680
---
more from: Bill Deli

Hi Fred, took this and several others at "Raeford" during my St. Pat's visit... This should be the one!! 'Enclosed also some "Side shots" to show more of the DZ...
The next one is to the left and fwd of the first shot. You see "the Bar" the hanger and office...
3rd is just to the left of the hanger ... that's the "Knights' out there just landed...
last one shows the "school, bathrooms and further down is the "Knights" area..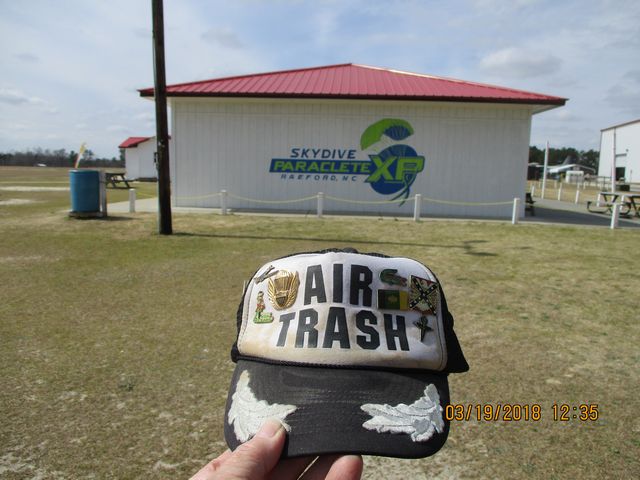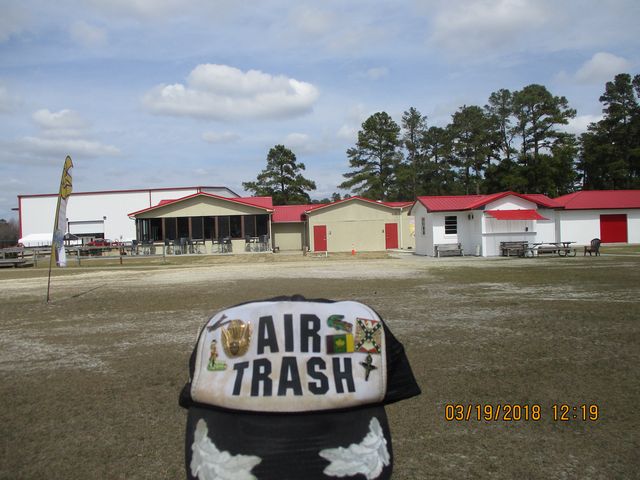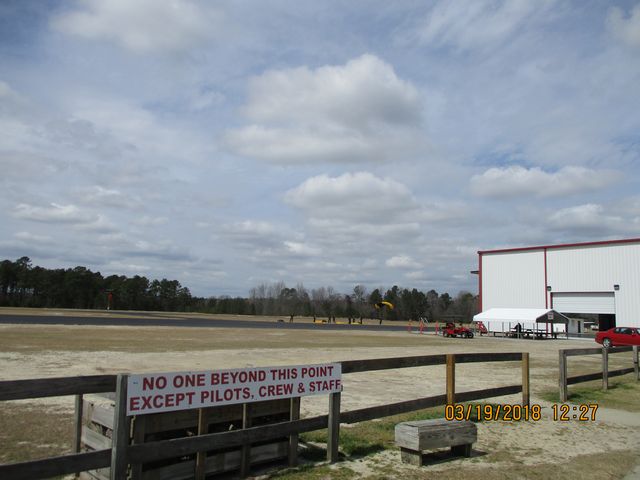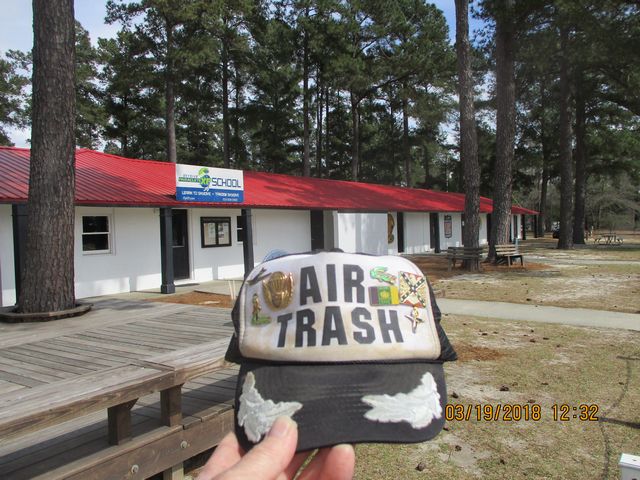 skybill
---
more from: Bill Deli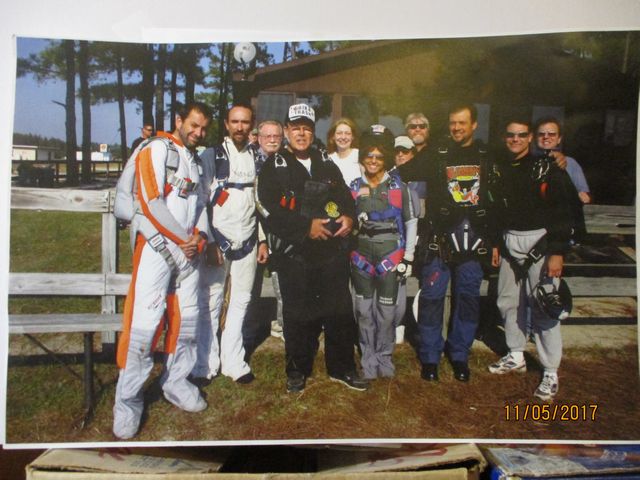 Please note the photo!!!!
This one I would like to post to the "PHOTOS!!" I told the story of "Harold Faulk's" Ash dive .... more later... this photo was "The Group shot" L-R Bob Lewis, then Shaun O'Neil, both who I worked with at "Sunpath Parachutes in Raeford!!," next is the guy with the white moustache... That's Paul "BIG HARRY" Thompson.. owner of "BIG HARRY'S TAVERN, 3030 Ft. Bragg rd., Fayetteville, NC Where we all "hung out!!", next is "Yours Truly in the Black jump suit , "AIR TRASH" hat and holding in my arms the pouch with the "Golden Knights" crest .. holding Harold's ashes!!!!!!" the Lady on my left shoulder is "Annie!!!" Paul's Wife, Lady in the Grey jump suit is Yvette Walters.... "Great Lady Flier, does Great Camera, is wife of Keith Walters, now former XO of the "Golden Knights" and currently Head Honcho of the USSOCOM "PARACOMMANDOS" Parachute Demo Team!!!! (I'll send you a vid of one of their ops next!!) video at the end of message.
BTW, I needed a "CUTE GIRL" to pull open the sack !!! I couldn't have an "UGLY GUY" do it!!!!... Harold would haunt me to my dying day if I did!! "SO!!" Yvette got the job!!!!!!!... on her left shoulder is Joanie... Harold's GF and our good Friend!! behind her is Mike Lee.....then!!! ...Standing there with the "BIG HARRY'S" Shirt and "Johnny K's (former 82nd AIRBORNE Troop who hung out with us at Paul's place) "Spit Shined Corcoran Jump BOOTS!!!!!!!... Is "DAVE PASCHAL!!!!!!!!!!!!!!!!!" Yup!! That's him... His Tandem Master (forget his name at the moment??) and Mike Lee's Brother.... This Photo was taken on 05NOV2005 as you will note this was some time ago.... this was Dave's Tandem intro jump, they followed us .."RIGHT OUT!!" and he was there to watch us pull Harold's Ash Bag!!! BTW... turned out my timing was perfect, it was 05NOV2005 when we finally got everybody organized to get to the DZ and "It was the last Saturday with NICE WARM WEATHER" before "Old Man Winter" started throwing "Noreasters" at us!!
(Ya' gotta' be from NC to understand".....
But to put all this into context, Harold was an "Old Friend" .. now and then he would show up at RAEFORD and watch us jump, .. he would say ," I wanna' do that!!" .. but the cancer got in the way..... Harold passed in September...not long after we had a "Full, Tilt, Boogie" Memorial for Harold at "Big Harry's Tavern" ... Several Bands Played, ..lots of Good friends, good times and Harold's Ashes on the "Band Stand!!"...during the event ...'just happened.. I was telling Joanie and Pau about how in SKYDIVING we took the ashes of our departed friends and released them in freefall!! A week or two later, I stopped in at Big Harry's for a Beer after work.... Paul comes up to me on one side and Joanie on the other, .. Theysay,"Bill, remember how you told us about releasing ashes of friends in freefall??" .. I said,"Yes..?" .. They said,"We think Harold would like that!!!!" .. That's!!!!!!!!!!!how I got the job!!!!!!!!!
Dave Paschal was part of that event!! But he was an event of his own!! We Carry On!! 'Have to "PLAN" a trip to NC just to "JUMP THERE AGAIN!!" Last few trips, the weather was bad, had lots of "FAMILY" to do, you know the drill.. 'Have to do a "ME" trip!!!
I'll keep you posted.......
Blue skies,
skybill
---
Message Posted 5-4-18
from: Duke Goodreau
Wow it took this old trash 2 hours to get this far, I'm just not electronically inclined, I would very much like to join you guys in Taft at the old farts boogie. Is it possible to find Don the Air Trash camera man that gave me my Air Trash hat at the 1984 nationals in Muskogee, Animal and Cory and the whole crew made me stand on top of the Air Trash bus with everybody else and sing the AT song while the cameras were winding, I have the film. I rode my Harley from Portland Oregon all the way to Muskogee and jumped accuracy until I Claire's to hi and Cheryl Stearns had to help me back to my bike and I met Air Trash and the party was on, I drag race Mr Douglas down the runway and beat him and gave him a righteous Air Trash moon, Don had only one leg but he was a most righteous skydiver, so if any old school Air Trash Remembers hook me up.
Redneck D8407
---
Message Posted 9-3-17
from: Bill Deli
Hi Fred...and all,
By now you are getting or have gotten your Sept. 2017 "Parachutist" in the mail!! 'Figured with as many "inputs' they get I'd stand a "Snoball's chance in Hell" for getting my photo published!! My sis took me to New Orleans for my B'day and we walked around the "French Quarter" and played "Tourist!!!' Got a photo up on the Mississippi river bank levee looking toward "Jackson Square!!" .....They "Published it!!!" there on page 10 in the "Parachutists around the world!!" That's me in my "Gold Coast Skydivers" Tie-dye T-shirt and my new "River Boat Gambler Straw Panama Hat!!" that my sis got me for my B'Day!! Take a good look!! Andy still stands in spite of rumblings of of his demise by antifa and other "Mercenaries."
For the record, Andy was visiting New Orleans in 1814 and unbeknownst to him and everyone, the "Brits" were pulling into Lake Borgne east of New Orleans and were going to advance, take New Orleans and secure control of the mouth of the Mississippi River thus strangling US Commerce!! Word got down town and Andy mustered his troops, all able-bodied men of New Orleans and the help of Jean Lafitte "The Pirate!!" (He plundered only Brit flagged ships and left the US alone thus he got to hang out here) and all his men and needless to say when the Brits got to Chalmette they "Got Wacked!!" Thus Andy stands Tall in "Jackson Square" in front of the St. Louis Cathedral!! Had Andy and the troops failed.... we'd be paying our taxes to King George and his descendants!!!!! Yer' "Dixie Trash" History lesson for the day!!
Blue skies,
skybill-out
PS: Add on photo, me and my little sister Rose by "Andy!!!"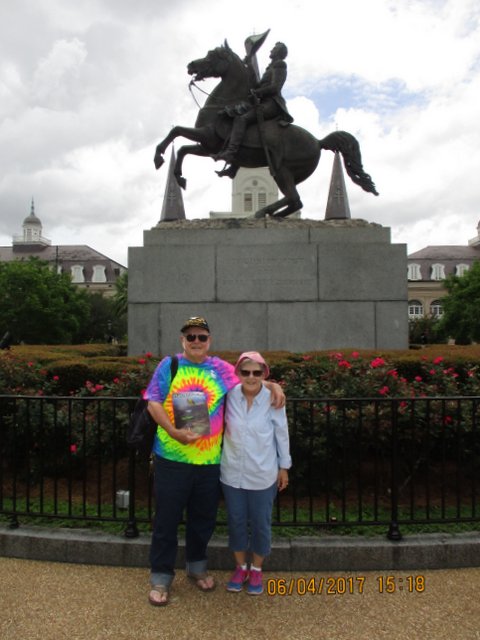 Happy "B-Day", 'ya Silly Tit
---
Message Posted 8-29-17
from: Frank Venegas
Hoping someone can get me the name and number of the photographer(s) who filmed the 2 jumps we made with Steve Fieldings group for Al Frisby's 24 hour Badge, It's been quite a few years, but I would like to get a copy of those jumps.

I am at,
Email: fvscr67@yahoo.com
---
Message Posted 6-5-17
from: John Bull
Hi Freddy,
Normally when an Air Trash guy gets profiled, it's done by local law enforcement agencies... Ha!
Bully
---
from: Bob Butt
Yea Bully!
---
from: Larry Walsh
Congratulations Bully. Yet another way to get in a cheap plug for Air Trash!
Larry/ST135


---
Message Posted 11-20-16
from: The Webmaster
Donna launches a new website called GREATGEARX.org, with a focus on Novice and new "A" license skydivers.
Donna writes:
"I am Donna Wardean. I started jumping in 1966 at Arvin, California...(the cradle of Relative Work).
In the early days, in the mid 60's, my peers were generous in sharing what they knew aboout RW. How to get from point A to point B (today this genre is formation flying of various types).
Well, they were big,,, I was small. Their advice didn't always translate or work for me but it gave me a place to start. I loved the sport and challenge... and I had a great career! So as others followed me, I paid it forward. My personal passion has ALWAYS been to help people who were young in our sport to Grow, Mature and Flourish. That is something that came naturally to me because my peers, those early RW men... the Arvin Good Guys shared what they knew with me."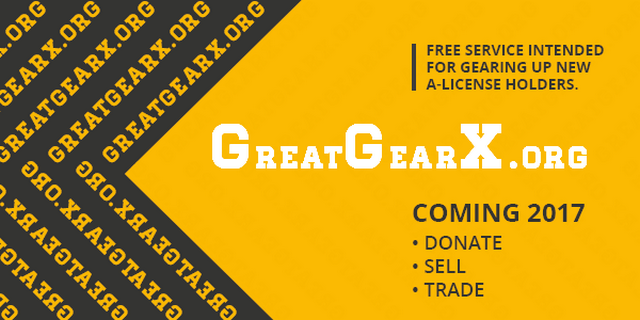 This site isn't just for the Novice Skydiver, it's for anyone that wants to buy sell or trade skydiving related gear.
This and other great links can be found on the Air Trash "LINKS" page.


---
Message Posted 6-2-15
from: Tim Long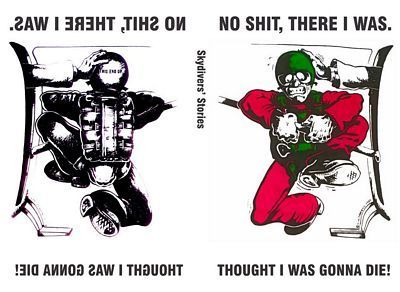 These memorable images, by artist Rob Thundercloud and donated by Tom Sanders are the book cover.

Well, Doug and I have gotten so many requests to do another NSTIWTIWGD book of stories
that we are going to give it a try.

So if you got any you would like to submit to us then email me the story at tim_j_long@MSN.com

Thanks,,
Tim
---
Click HERE to leave a message. Keep it short and Type it exactly as you want it to be seen.